It happens that three of the programs I was most interested in seeing this season fell in the same week. One (Oct. 5) consisted of a medley of pieces to the music of Stravinsky; another (Oct. 6) combined the 1959 work "Episodes," set to four works by Anton von Webern with the sumptuous "Vienna Waltzes," from 1977; and the last (Oct. 7) included two of the company's major "hits" of the last decade-and-a-half, Alexei Ratmansky's "Concerto DSCH" and Justin Peck's "Everywhere We Go."
All included débuts. The company is going through a major generational shift, and it is possible to see younger dancers taking on roles for the first time almost every night, alongside veterans like Sterling Hyltin, who will retire in December. Hyltin has been dancing many roles for the last time: a few days ago, it was Jerome Robbins' "The Cage," and before that "La Sonnambula." Next week, "Concerto DSCH" and "Vienna Waltzes." Just this short sampling gives you an idea of her range.
In the three performances I saw this week, Hyltin performed in "The Cage," "Concerto DSCH," and Justin Peck's "Everywhere We Go." She was impeccable in all three, stylish, in the moment, always dramatically on the mark. She has a way of making the hardest things look easy, and of subtly adapting herself to each role while remaining inalterably herself.
These three works all looked well-rehearsed, sharp, and focused in a way that is not always true at New York City Ballet these days. Performances vary. "Symphony in Three Movements," on Oct. 6, felt a touch chaotic, plagued by spacing issues and underwhelming performances by Sebastian Villarini-Velez (messy footwork), Emilie Gerrity (she has been looking out of sorts all season), and even, uncharacteristically, Tiler Peck, who was dancing with little energy. The exotic central pas de deux, danced by Peck and Adrian Danchig Waring, had no sizzle.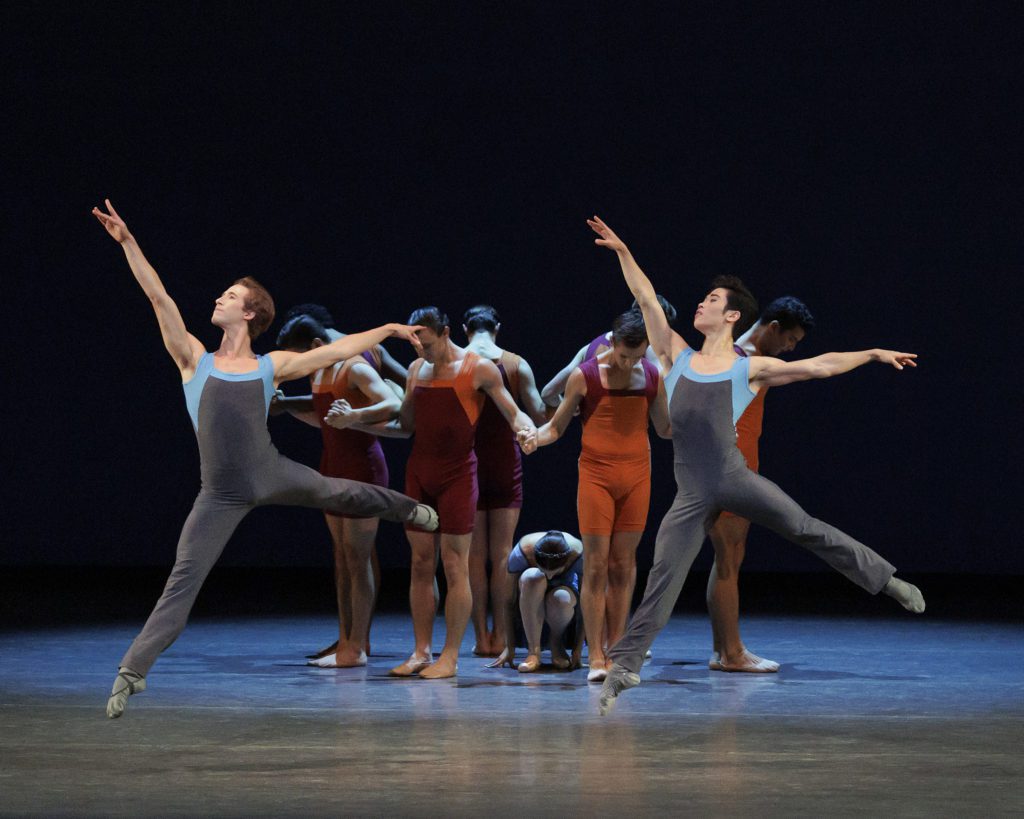 In contrast, Villarini-Velez, who seems to pop up in every ballet these days, was absolutely sensational in Ratmansky's "Concerto DSCH," as, it must be said, was the whole cast. He, Emma von Enck, and KJ Takahashi were débuting in this ballet, and they looked thoroughly energized by the experience. Von Enck moved with such speed and precision that small moments, as when she flirts with one character, only to be shooed off by his partner, registered with greater clarity and timing than usual. Villarini-Velez spun like a top, feet pointed, legs straight, body stretched, without the rushed look he so often exhibits. Takahashi, as the third member of the ballet's athletic trio, seemed to barely touch the ground.
In the second, slow, movement, Adrian Danchig-Waring and Hyltin shared a moment of dreamy but sometimes hesitant intimacy. As he reached for her hand, she bourréed away from him, almost floating, while around them, a group of friends walked arm in arm and engaged in their own private dramas. At the end, the two lovers separated, but their souls seemed to linger. What makes this ballet so exciting, in addition to the speed and the charm of Shostakovich's second piano concerto, is the specificity of the situations suggested by the choreography. You feel a sense of place, of time, of the complexity of human interaction.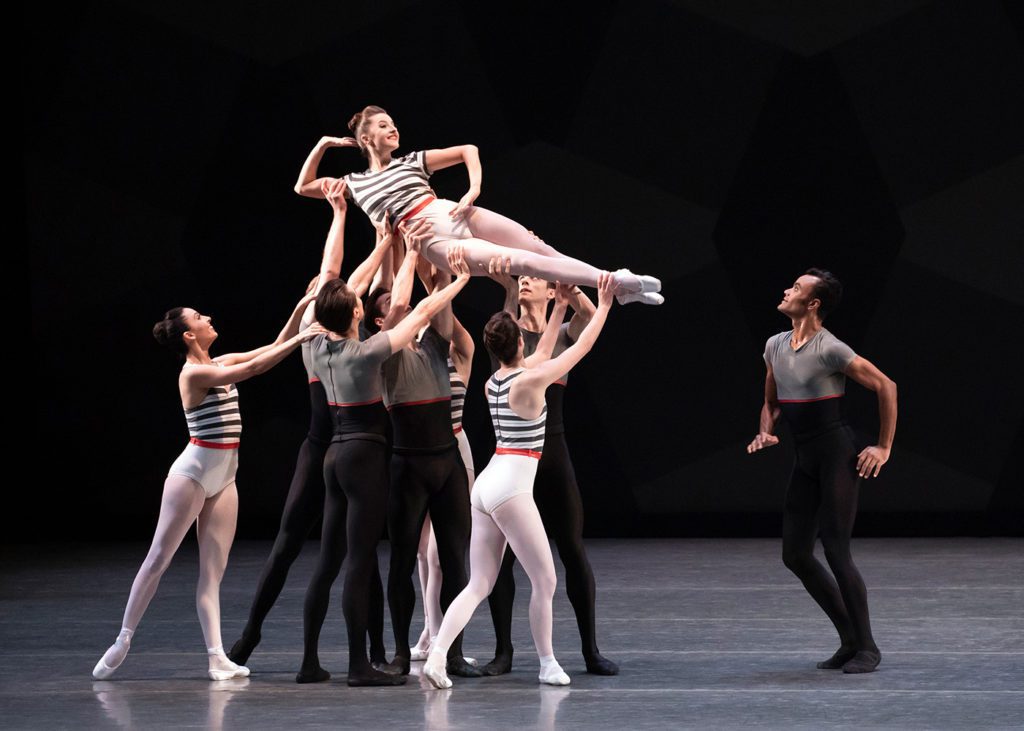 It is exactly this specificity that is lacking in Justin Peck's "Everywhere We Go" (Oct. 7), a large-scale work set to music by Sufjan Stevens, orchestrated by Stevens and Michael P. Atkinson. Here, the images are specific but the moods are generic. Highly intricate phrases in which dancers move in counterpoint, creating straight and rounded shapes, alternating between sharp and soft movements, are contained within a work where the mood shifts from mysterious to joyous to melancholy with little rhyme or reason.
Here the music is loud and brassy, like a high-school band; there it spirals in continuously descending arpeggios, sending the dancers spinning across the stage. A sentimental melody inspires images of disconnection and solitude. But it's just a general malaise. Peck's strength in "Everywhere We Go," as in many of his ballets, lies in the inspired geometries he deploys, both across the stage and within the body. They are echoed here by elegant latticed designs by Karl Jensen, further animated by the shifting lighting of Brandon Stirling Baker. It's a shallow but visually engaging work.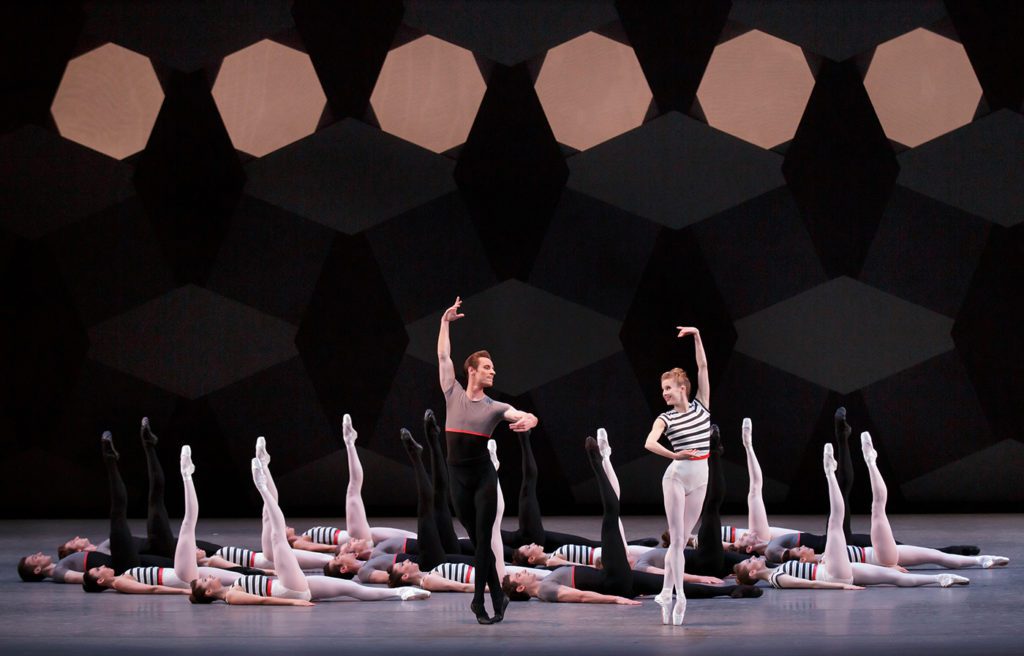 "Everywhere" and "DSCH" shared a program with Balanchine's "Stravinsky Violin Concerto." The latter was a remarkable performance. Not only did the corps de ballet look sharp and engaged—even the four men jumping together in the opening toccata were in sync—but the two principal couples were superbly matched. Something special unfolded in each of the two pas de deux. The theater went quiet, raptly watching the two dramas unfold. Sara Mearns and Taylor Stanley, two of the company's most theatrical performers, subtly altered the dynamics of the first encounter, the more aggressive of the two. Mearns took the lead, with Stanley responding to her taunts with delicacy and wit. Each put his or her own accent on the choreography's many backbends, floppy torsos, and falls. They trusted each other, playing with each other's timing.
In contrast, in the second, more psychologically fraught pas de deux, Ashley Laracey and Joseph Gordon twisted and turned in each other's arms; he touched her with tenderness, she reached out to him with need. The final moment, in which he covers her eyes and pulls her head back toward him, felt heart-breaking. The audience held its breath.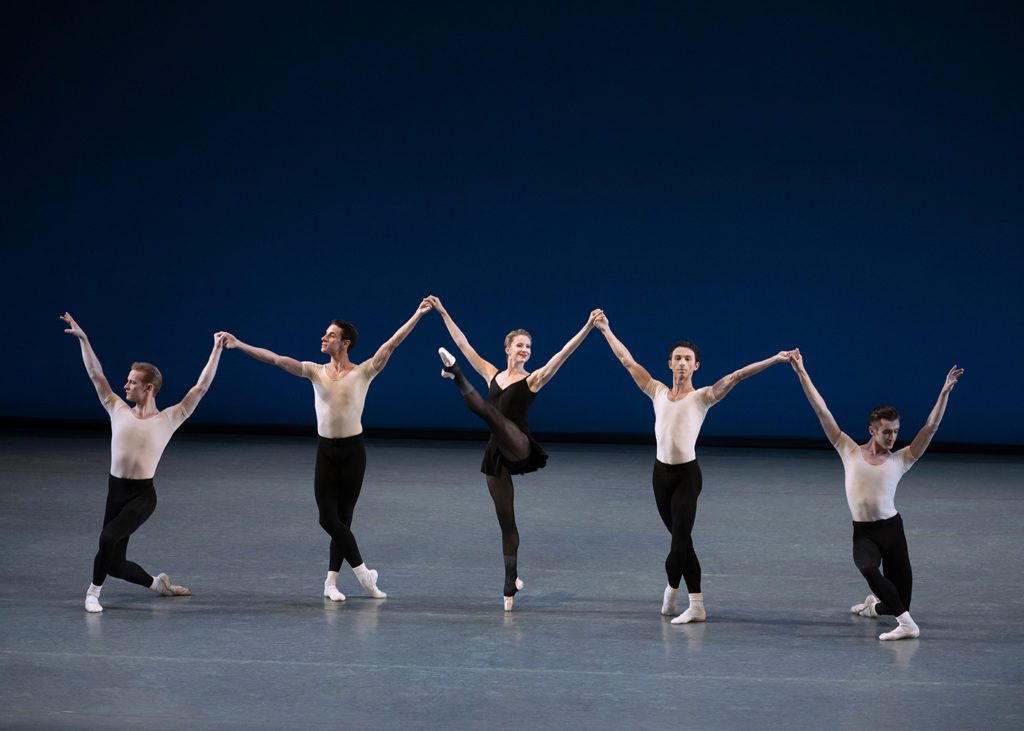 Stanley, like Hyltin, is having a marvelous season. He's looking freer than ever, and at the same time, wonderfully precise; it's as if he had taken every moment in every ballet and thought about it, shaping it to his own taste. His "Apollo" is fascinating and against type. Instead of playing it like a brash god-in-the-making, Stanley depicts Apollo as a searching and inquisitive young poet. Each step is a discovery. He doesn't show off or give himself false airs of grandeur, and his approach to the muses is unassuming. They're teaching him, not the other way around. Unfortunately, though, this cast of this "Apollo" was not well matched. There were spacing problems. Sara Adams danced Calliope by the book; Emilie Gerrity, as Polyhymnia, looked rushed and fell out of turns; and Unity Phelan, though ravishingly beautiful, was rather bland in the role of Terpsichore.
The same was true of Phelan's début in the Rosenkavalier waltz from "Vienna Waltzes" (Oct. 5). In the final section of the ballet, a woman walks into an empty ballroom and reminiscess about lost loves, perhaps even a lost world. A man materializes, but may only be a memory. Performed by a dancer with an active imagination, the woman's trajectory across the stage inspires a strong sense of nostalgia and loss. But Phelan, despite her quiet elegance and supple movements, was like a character without a story.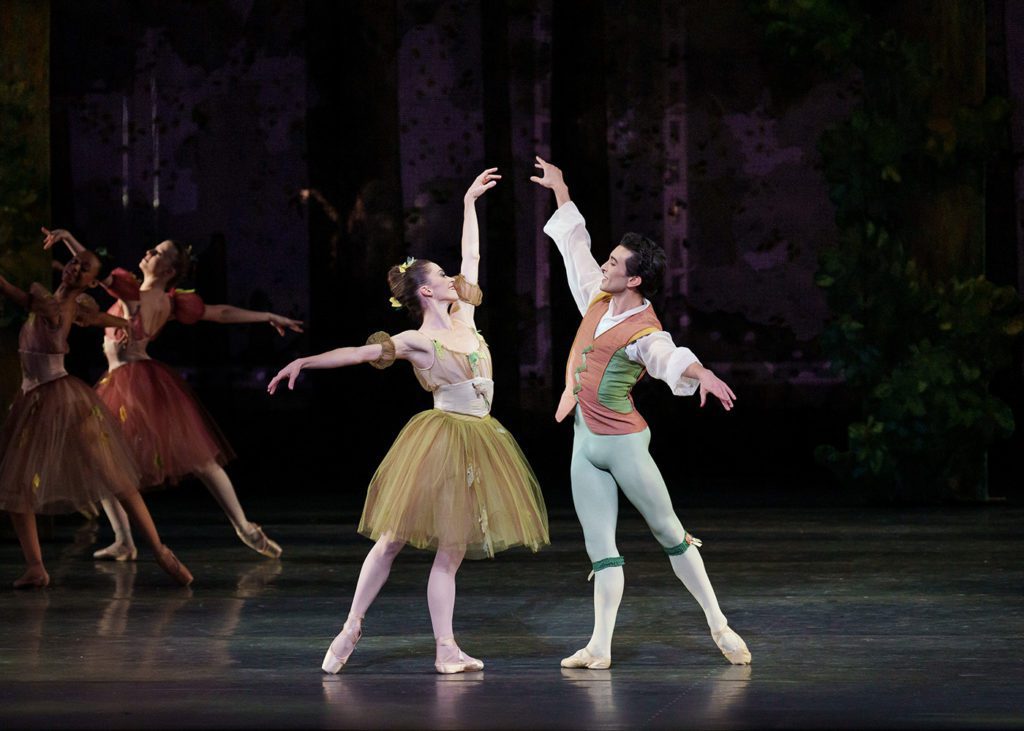 The whole ballet seemed miscast, with the exception of Megan Fairchild and Anthony Huxley, who flew through the quick-footed "Voices of Spring Waltz." Ashley Laracey and Peter Walker made little impression in the opening "Sounds from the Vienna Woods," and Mira Nadon looked beautiful but also lacked an inner narrative in the "Gold and Silver" waltz, set in a fin-de-siècle café amongst hussars and chic socialites. About the vulgar, garishly-costumed "Explosions Polka," the less said the better.
One of the interesting programming choices of recent seasons has been the pairing of two longer works, with just one intermission. This season, the lush "Vienna Waltzes" is combined with the spare, oddly-paced "Episodes" (1959), a series of dances to Webern. Each piece has its own character. The opening is objective and exploratory, like an ABC of Balanchine's modernist vocabulary. The second unfolds as a compendium of Hitchcockian encounters. The dancers teeter on point, run past each other, and peer into the darkness, as if trapped in a dream. At one point, the woman (Emily Kikta) grabs onto the man's back, her legs protruding over his shoulders like horns, and they walk off like that, morphed into a single, monstrous being.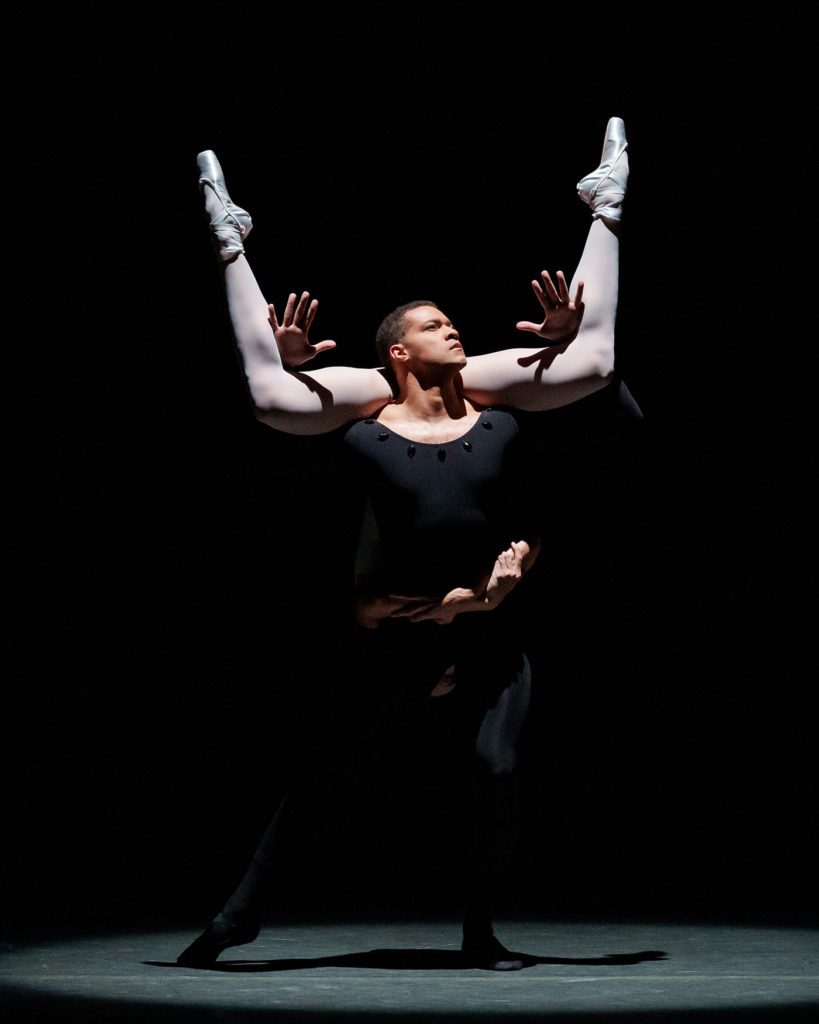 In the third pas de deux the man (Harrison Ball) manipulates the woman (Unity Phelan) so that she appears to be an extremely supple and malleable puppet (a modernist "Coppélia").  Then in the closing section, set to Webern's orchestration of Bach's "Musical Gathering." the ballet suddenly becomes extremely courtly. The two dancers (Sara Mearns and Adrian Danchig-Waring) execute simple movements with their arms and legs, and then kneel face to face, with the corps de ballet creating architectural patterns behind them. All is order and grandeur.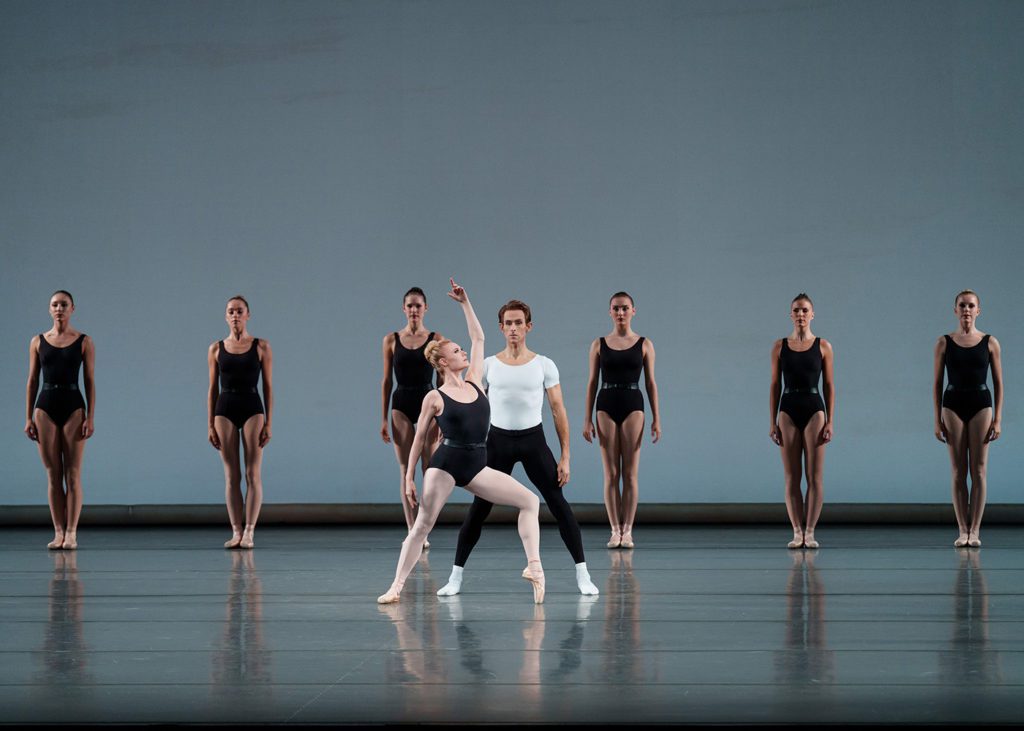 "Episodes" was originally planned as a collaboration with Martha Graham, but Graham's contribution was soon excised. There was also a solo for Paul Taylor, then a member of the Graham company, choreographed by Balanchine. The solo, long missing, was revived in 2020, just before the pandemic, for Jovani Furlan and Michael Trusnovec, from the Taylor company. It has now once again been dropped. It's a shame—it added a moment of absurdist drama and bravura to the strange mix that is "Episodes."
Three evenings, nine ballets. Each ballet revealed a new facet of the company, new faces. Strengths and weaknesses rose to the surface. Too often, ballets look under-rehearsed. Dancers débuting in important roles sometimes appeared to lack a strong idea of what secrets the role might hold. This became particularly clear when contrasted with performances like the one of "Concerto DSCH," in which everyone seemed to know very precisely who they were, and why. Is it a question of rehearsal time? Coaching? Personality? Who knows. But if I were to choose one word to describe New York City Ballet at the moment, it would be: uneven.