Performance
New York City Ballet: "Piano Pieces" and "The Four Seasons"
Place
David H. Koch Theater, Lincoln Center, New York, NY, May 17, 2022
We don't usually associate the choreographer Jerome Robbins with the music of Tchaikovsky. But on occasion, Robbins did choreograph to music by the Russian composer. One of these works, "Piano Pieces," was made for New York City Ballet's 1981 Tchaikovsky Festival. This week it returns to the repertory for the first time since 2008, paired with Robbins' tongue-in-cheek Verdi ballet "The Four Seasons." The combination makes for a light, bright, and relatively brief evening, something of a relief after the two-week Stravinsky Festival.
Like Robbins' "Dances at a Gathering" and "Other Dances," "Piano Pieces" is a plot-less piano ballet, a series of dances, usually for one, or two, or three dancers. In this case these are bookmarked by two larger ensemble sections, in which Robbins displays more "Russian" flourishes: crossed arms, heel-toe footwork, hands on hips. But these Russian ornaments, also taken up by a virtuosic male dancer (here, Roman Mejía) are not particularly convincing, veering, at times, toward cutesiness.
This cheery outer layer surrounds a work that abounds with other, more appealing Robbins qualities: warmth, intimacy, experimentation, gentleness. Particularly in the pas de deux, the dancers are depicted as friends, colleagues who love and know each other through and through, partners in the deepest sense. In this, the ballet evokes an atmosphere familiar from "Other Dances" and "Dances at a Gathering"; it also nods at the gestural simplicity of "Goldeberg Variations." At one point, a cluster of dancers holds out one hand, turning their palms upward as if to check the weather.
As the mood deepens, Robbins's musical choices blossom into scenes of intimacy and melancholy, sustained by Tchaikovsky's extraordinary melodies. In "Reverie," set to Tchaikovsky's opus 9, no. 1, two dancers engage in a long, leisurely conversation, walking together, taking turns to dance for each other. The man (Jovani Furlan) watches his partner (Emilie Gerrity) wafts toward, and then away from him. He kneels behind her, she looks back at him, and then kneels next to him—a lovely metaphor for friendship. Furlan exuded sincerity and warmth; Gerrity a little overwhelmed at first, relaxed and expanded in his arms. A later solo, danced by Tiler Peck, is set to the Barcarolle from Tchaikovsky's "The Seasons." Like the poignant melody, the choreography evokes the experience of reliving a beautiful memory. A ripple of pleasure traveled across Peck's torso, as it does in one of the solos Robbins made for Natalia Makarova in "Other Dances."
Even more dramatic was the pas de deux danced by Mira Nadon and Aaron Sanz, set to "Chant d'Automne," also from "The Seasons." The melody is Russian, full of yearning, with the emotional pull of a mezzo-soprano aria. Sustained by, and responding to, its rise and fall, Nadon danced with a plushness, both yielding and free, that took the breath away. Her stylishness and confidence, deployed with such force in ballets like "Rubies," morphed here into an almost blissful ease, a ravishing combination of control and freedom. (Sanz seemed slightly cowed by the challenge of partnering her.) The duet ended with one of Robbins' magical lifts, in which Nadon lingered, upside down, as if suspended in the air. Still a soloist, Nadon seems destined to become not only a principal, but one of the company's most exciting dancers.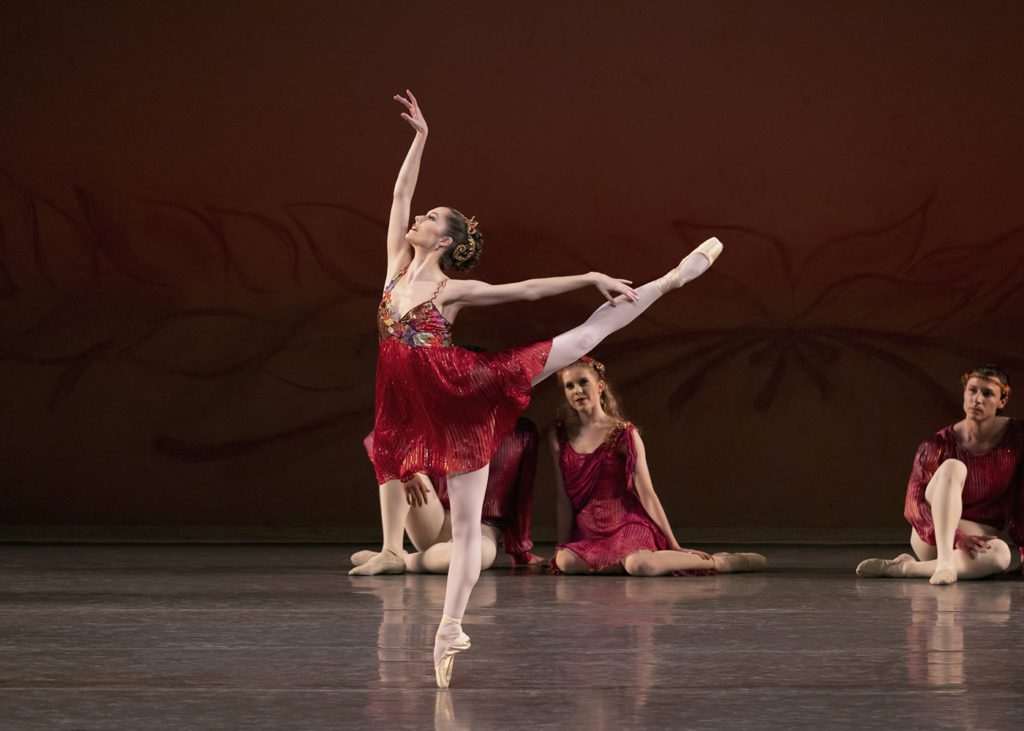 The other half of the program was filled by "The Four Seasons," set to Giuseppe Verdi's ballet music from "I Vespri Siciliani," plus bits from "I Lombardi" and "Il Trovatore." The music is almost comically grand, but also brimming with glorious melodies, including a lilting solo for the clarinet (in "Spring") and another, more sinuously exotic, for the oboe (in "Summer"). Robbins cleverly conceived of the suite as a spoof of the grand ballet style, using a mostly classical vocabulary—including those old standbys, fouetté turns and pirouettes à la seconde. Like "Piano Pieces," "The Four Seasons" suffers at times from excessive cuteness—particularly the "Winter" and "Fall" sections. In one, ballerinas shiver and blow on their fingers; in the other, an embarrassingly perky faun shakes his head side to side and bobs up and down endearingly.
Nevertheless, and despite some under-rehearsed dancing in the ensembles, the ballet contains lovely passages, particularly in "Spring" and "Summer." The first was danced by Indiana Woodward (having a fantastic season) and Chun Wai Chan, possibly the company's most distinguished male partner. The pas de deux here, sustained by the silvery sound of the clarinet, is filled with walking steps that gradually morph into glides, and then turns, and then into lilting promenades, a Robbins specialty.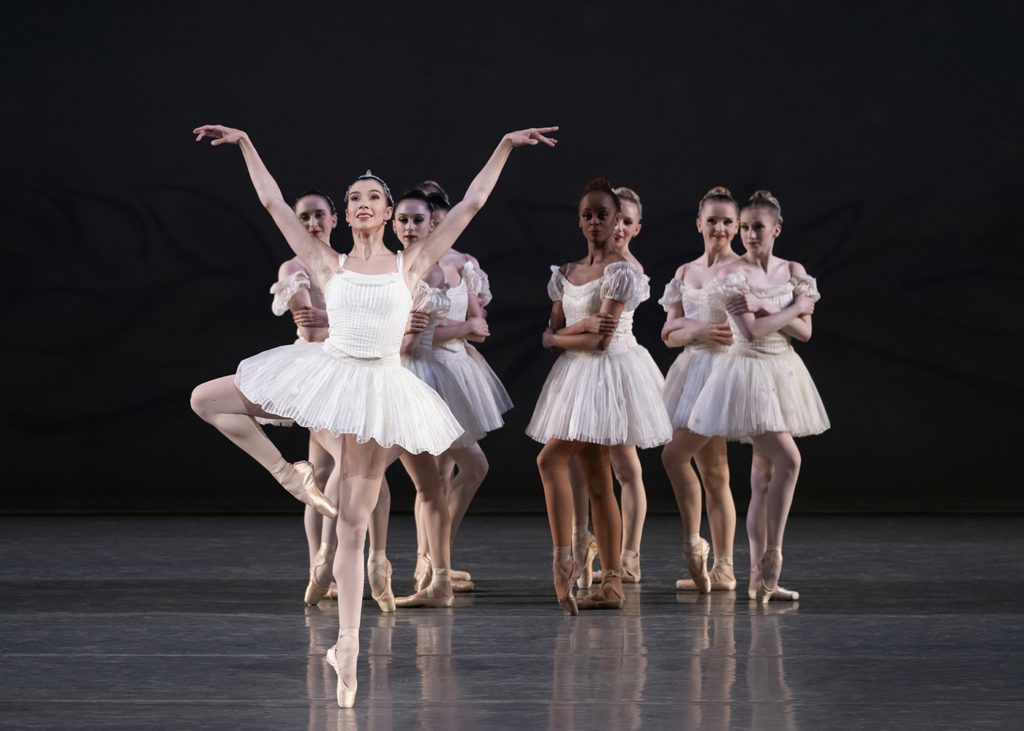 Summer, with its languor, introduces a more sultry couple that dances with expansive slowness, often in profile, with bent, turned-in legs, evoking classical paintings of nymphs and athletic youths. The playfully sexy choreography suggests a heavy warmth, buzzing bees, ripe fruit. Here, Gerrity, with her beautiful, long arabesque, could have let herself go more, in order to relax and sway with the musical current. In contrast, her partner, Amar Ramasar, looked utterly in his element, feet stretched, arms soft, well placed in turns, both elegant and boyish. It was a performance that made one sad to think he will be retiring from the company in just over one week. Unity Phelan, as the spirit of the fall, was at her most glamorous, deploying long lines to maximum effect. In the final ensemble, which looked a touch chaotic, someone fell.
The program, which will be repeated through May 20, may not be the most distinguished nor the most substantial of the season. And yet it offers plenty of pleasure, along with some much-needed warmth and lightness.