Performance
The Royal Ballet: "Light of Passage" by Crystal Pite
Place
Royal Opera House, London, October 18, 2022
Crystal Pite's "Flight Pattern," created for the Royal Ballet in 2017, was noteworthy not just for its elegant storytelling but also its status as the first female-choreographed ballet to hit Covent Garden's main stage this century. The half-hour ballet thrived on the power of the collective, marshalling three dozen dancers to tell an urgent chronicle about unity and strife, bodies breathing as one.
Pite is a connoisseur of large-scale ensemble work, and her new ballet, "Light of Passage," a full-length expansion of "Flight Pattern," keeps up the momentum with 40-plus dancers arranged over three parts. The first section reprises her original 2017 choreography, a collage of rocking forms and crisply rippled lines. Inspired by the refugee crisis—the defining story of our time, Pite feels—it charts a dispossessed cohort set adrift by the maddeningly intangible forces of politics, economics, laws issued from wood-panelled rooms. It's a dance of limbo, of transience, hunched backs and craning necks, desperation straining against fatigue. The community Pite depicts is abstracted, anonymised, but never dehumanised; this is her genius. Buoyed by imagination, she goes to some very real places.
The new material begins with "Covenant," an ode to the United Nations' treaty on the rights of children that drafts in six young dancers from the Royal Ballet School. More of a loose companion to "Flight Pattern" than a direct follow-on, it unfurls with similar grace. Appearing one by one, dressed in white, the kids dart among the black-clad ensemble, fireflies in the night sky. The group envelops them, steering them into various tableaux—still, tranquil counterparts to the gasping formations of act one. The curtain falls on a semicircle of adults encompassing the children, an allusion to the curved UN assembly chambers, before rising again for "Passage," where two older dancers (Isidora Barbara Joseph and Christopher Havell of the Company of Elders) come to the fore to meditate on a Mary Oliver poem about mortality.
Here, groupwork takes a backseat to a series of duets, each played out between silky golden panels hanging from the rafters ("Look, the trees/are turning/their own bodies/into pillars/of light"). Madison Bailey and Calvin Richardson sweep without a sound, morphing into fluid, organic shapes with quiet, conscious articulation. Luca Acri and Benjamin Ella bring a similar intention—their calm partnering, with its ducking and swooping, almost reads like tai chi. The duets are serene, uplifting, but tension creeps in as we catch glimpses of limbs grasping behind the silks.
The ballet unfolds against Henryk Górecki's Symphony of Sorrowful Songs, and delicately threads together different connotations of the word 'passage'—immigration, movement, development, pieces of music or text—in the same way that Górecki's score unifies several lamentations on loss. Early on, the choreography picks up on the symphony's layered strings to mesmerising effect, dancers billowing at different levels, in different directions, before flocking back into unison. Later, they defer to soprano Francesca Cheijina's soaring voice, moving in its heavenly slipstream. We build to a celestial crescendo with Tom Visser and Jay Gower Taylor's Turneresque lighting design, a chiaroscuro dreamscape that sends gossamers of light wisping upwards.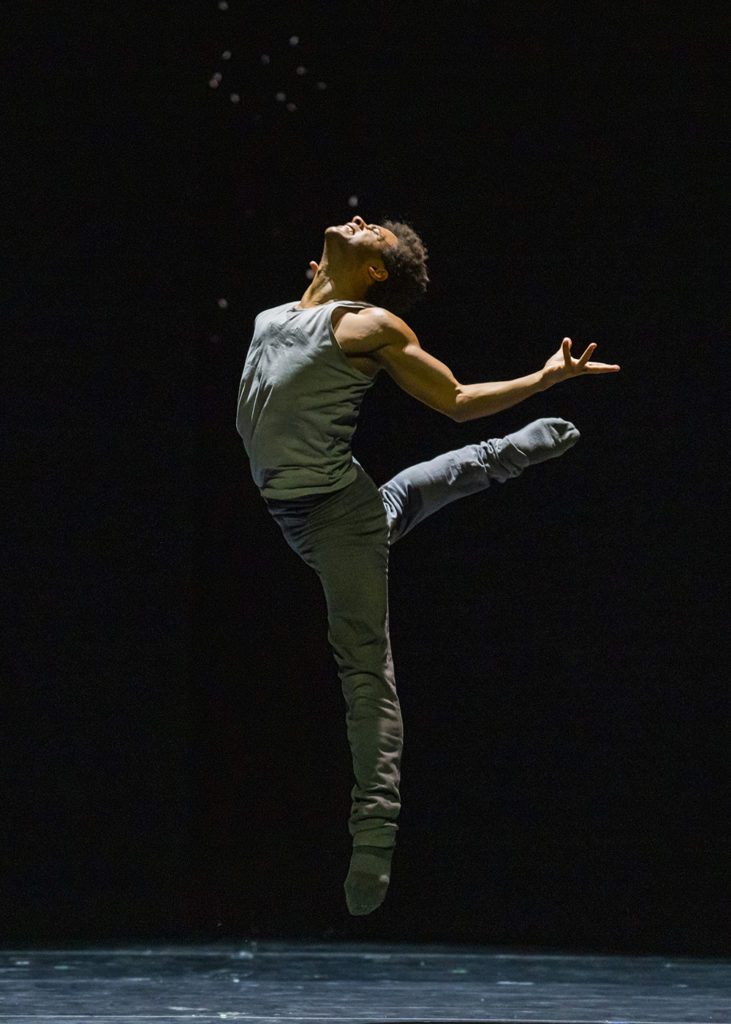 Glimpses of individual stories surface, including a knock-out solo from Marcelino Sambé, who slaps his wrists in time with his ragged breath, a body pushed to the brink; but it's never long before we return to the fleet, sweeping intensity of the group, whose outstretched arabesques burn with clarity. The drama is timeless, biblical even, but very much tethered in the here and now.