Performance
New York City Ballet's Here/Now program
Place
David H. Koch Theater, Lincoln Center, New York, NY, October 8, 2017
New York City Ballet's program titled "Here/Now" included a selection of works the company presented during its last season's spring festival of the same title. This was a winning quadruple bill on all levels, featuring ballets by some of the most prominent choreographers working today: Alexei Ratmansky, Christopher Wheeldon, and Justin Peck.
The program's centerpiece, Ratmansky's "Odessa"—the choreographer's fifth ballet for the company—received its world premiere during the festival in May. Like his inaugural work for NYCB, "Russian Seasons" (2006), "Odessa" is set to the music by Ratmansky's friend and frequent collaborator, Russian composer Leonid Desyatnikov. (The two men met and started their creative partnership in Moscow at the Bolshoi Theater nearly 10 years ago. At that time, Ratmansky was artistic director of the Bolshoi Ballet.)
Unlike the exuberant and uplifting "Russian Seasons," the emotionally intoxicating and visually gripping "Odessa" is shrouded in suspense, mystery, and sadness. The ballet draws its powerful energy and dramatic colors from its equally dramatic music—Desyatnikov's orchestral suite, "Sketches to Sunset," derived from his score to a Russian movie, Sunset. This 1990 film was based on Isaac Babel's "Odessa Tales," a collection of short stories, depicting the turbulent world of Odessa's Jewish quarters during the post-Revolutionary time.
"Odessa" unfolds with the kind of mesmerizing cinematic fluidity. In fact, watching this ballet feels like watching a silent movie. Here Ratmansky centers on three couples, whose stormy relationships are revealed in a series of vivid and dramatically poignant choreographic vignettes, each of which adorned by the intricate sequences for the six couples of the corps de ballet.
In this "Odessa," love is a battlefield. In the course of the ballet, the leading couples reveal their complicated romantic stories, unleashing in their evocative dancing a torrent of unrestrained feelings from ecstasy and bliss to frustration and suffering. Not for a moment does this work look and feel abstract—in each and every scene, the choreography is densely packed with narrative meaning, often obscure and veiled; and trying to decipher this hidden meaning is one of many pleasures of watching this fascinating work.
On Sunday matinee, the excellent cast delivered a performance of super-charged drama and emotional resonance. Mixing hesitation and unbound fervor, Sterling Hyltin and Joaquín de Luz masterly reprised the roles they originated at the ballet's premiere, their characters' amorous journey taking one unexpected turn after another. In open memorable episode, they are lifted off the ground by a chorus of men such that their serene, slow-motion dancing takes place in midair as if the lovers are temporarily poised between heaven and the earth. It's a visually striking moment, accompanied by the music that is equally beautiful and tender (most fittingly, this section of Desyatnikov's score is titled "Love"). But this tranquil idyll comes to an abrupt halt when Hyltin finds herself in distress, being tossed from one stranger to another, while the motionless de Luz looks at her shocking ordeal with some kind of devastating hopelessness as though paralyzed. It all ends as suddenly as it started: she gets on her feet and slaps his face, he snaps out of his trance, and they leave the stage together hand-in-hand as if nothing happened; but it feels as if their world has been permanently shattered, their spirits forever broken.
Sara Mearns and Taylor Angle made a classy turn as the tango couple—coolly reserved, elegant, and glamorous—an embodiment of Odessa's high-society. Enveloped by an ensemble of six female dancers, Mearns looked terrific in her magnetic solo danced to klezmer-inspired melodies of "Lot's Daughters."
Ashley Bouder and Taylor Stanley, in the ballet's most intense and confrontational partnership, brought all the fury and burning frustration of their characters to the surface in a performance that was as forceful as it was genuine.
Despite its dark and melancholy atmosphere, "Odessa" is a deeply theatrical and hauntingly beautiful piece—it casts a powerful spell that grips your heart and imagination. It's a ballet you want to see again and again.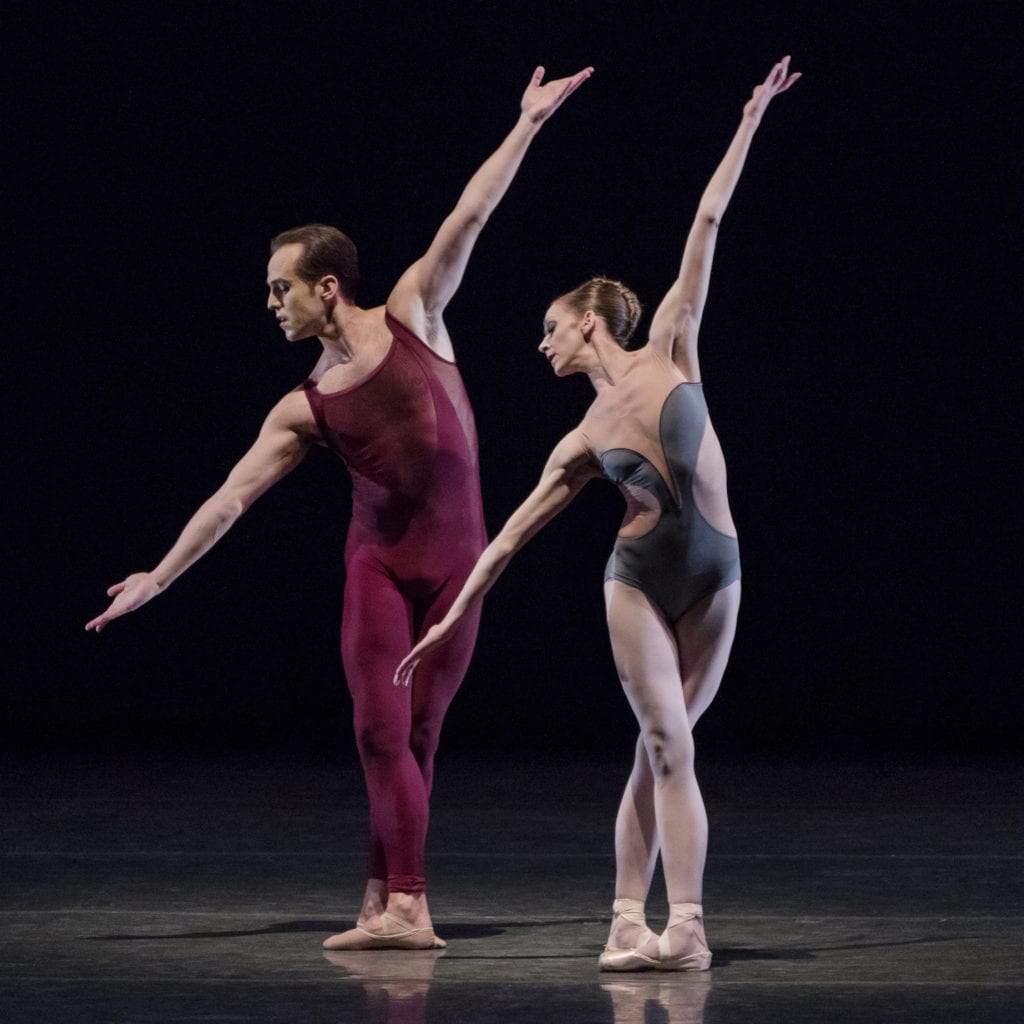 The program opened with two ballets by Christopher Wheeldon. His finely-crafted "Liturgy," from 2003, is a hypnotic and sinuous duet, set to the solemn ripplings of Arvo Pärt's "Fratres." The stately and sensual Maria Kowroski and Jared Angle turned this evanescent and utterly hypnotic pas de deux in a master class of unison and precision dancing, their gorgeously sculpted and thoroughly controlled movements revealed the familiar choreography with new radiant intensity and a sense of mystery and grandeur.
As for Wheeldon's breakthrough masterpiece "Polyphonia," from 2001, set to piano music by György Ligeti, no other company does this work better than New York City Ballet. I have seen this ballet on many occasions, performed by numerous companies around the country, including Miami City Ballet and the Washington Ballet. Without any doubt, the NYCB dancers own this piece in every sense of the word. To watch them in "Polyphonia" during this program was to discover this ballet in a totally different light—the knotty and angular choreography, with its many allusions to the Balanchine neoclassical aesthetics, came to life in all its enigmatic vibrancy and complexity. Unity Phelan, Zachary Catazaro (who was just promoted to the company's principal rank), Lauren Lovette and Russell Janzen were the cast's most memorable dancers.
This superb program culminated with Justin Peck's hymn to millennial generation, "The Times are Racing." In this relatively new but already popular piece, Peck mixes numerous dancing styles—ballet, hip-hop, break dance, jazz—to translate in motion the themes of youth, freedom, and political action. The dancers are dressed in stylish clothes—colorful silky rain coats, denim shorts, t-shirts, and hoodies—designed by Humberto Leon of Opening Ceremony; and they wear white sneakers instead of soft or pointe shoes.
To reflect the restless spirit and the racing pulse of the ballet's soundtrack—Dan Deacon's electronic music from his album America—Peck's choreography percolates with excitement and unbound energy, sending the cast in a perpetual-motion whirlpool of movement. It's a lively and uplifting ballet; and the NYCB dancers enjoyed every moment of it, dancing with refreshing spontaneity and invigorating power.