Performance
Robyn Orlin's "And so you see... our honorable blue sky and ever enduring sun... can only be consumed slice by slice..."
Place
New York Live Arts as a co-presentation with FIAF's Crossing The Line festival, New York, NY, September 22, 2022
A close-up image of white cloth undulates gently on a large projection screen set upstage. In front of it, a cameraman sits behind a table, facing the audience. His lens is trained on the bundle of white cloth draped on an easy chair set immediately downstage, its back to the audience. Underneath the fabric, dancer Albert Silindokuhle IBOKWE Khoza is wrapped up like a mummified king.
Robyn Orlin's "And so you see… our honorable blue sky and ever enduring sun… can only be consumed slice by slice…" begins with his awakening, as video and sound manager Thabo Pule carefully unwraps Khoza's body. The unveiling is only partial as Khoza is also cinched in layers of plastic wrap, pinning his arms to his body. Pule uses a knife to free Khoza's arms as Khoza sings. Even though the action is unfolding right in front of me, my gaze is drawn to watching it at greater remove, projected onto the screen.
Performed at New York Live Arts as a co-presentation with FIAF's Crossing The Line festival, Thursday September 22, 2022, marked the New York City premiere of a work that has been touring the world for several years.
Why did it take so long for "And so you see" to be shown in NYC and why is Orlin's work rarely seen in the U.S.? In a conversation between Orlin and Live Arts artistic director Bill T. Jones on Live Arts' website, Jones alludes to another presenter being excited by Orlin's work but fearful of the optics of an overtly political work by a white South African. On the other hand, Jones states he is here for the dialogue that this show will necessarily bring. Orlin, for her part, is unapologetic and unequivocal: her work is always political.
Khoza yawns and stretches as the dramatic sound of Mozart rises. He flips over abruptly to face the audience, appraising us before belting out a song. (All of the music in the show is uncited.) As he comes alive, he readies himself for an important date, a solo journey made vivid through detailed choreographies and meticulous stagecraft. Khoza carefully tends to the audience as his larger-than-life, shape-shifting character develops, making sure no one is left behind or bored. We laugh, cringe, and breath audibly from his embodiment of corruption and greed, but also from his humanity.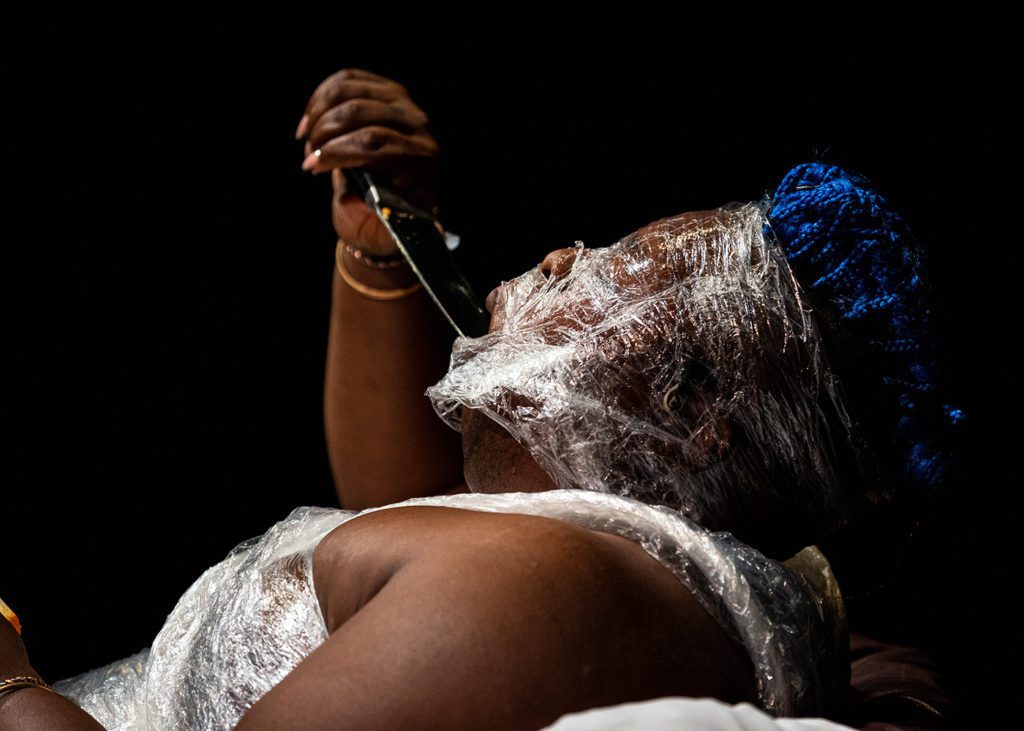 An artist of the highest caliber, Khoza deploys the many costumes and props to maximal, and often humorous, effect. A cowbell mimicks Mozart and rings out in time with an orgasm. Whips and knives conjure violence but are also instruments of pleasure and transformation. After peeling, slicing, maiming, stabbing, and devouring a bowl of oranges, one by one with a knife—not to mention, wrestling with said knife in his mouth to audible gasps from the audience, who were most likely watching the closeup of his cackling face on screen—Khoza uses the weapon to free his flesh from the plastic wrap, which has come to look like a shimmering evening gown. Running the tip of the knife up his abdomen, he slides it over his neck to forcefully chop the material from his face.
Orlin's deep experience as a director is felt here as she so artfully trains the gaze somehow further from the action and yet, this allows for a more intimate view through the close-up of the camera and the epic, magnified projection. She and Khoza are also masters at managing tone.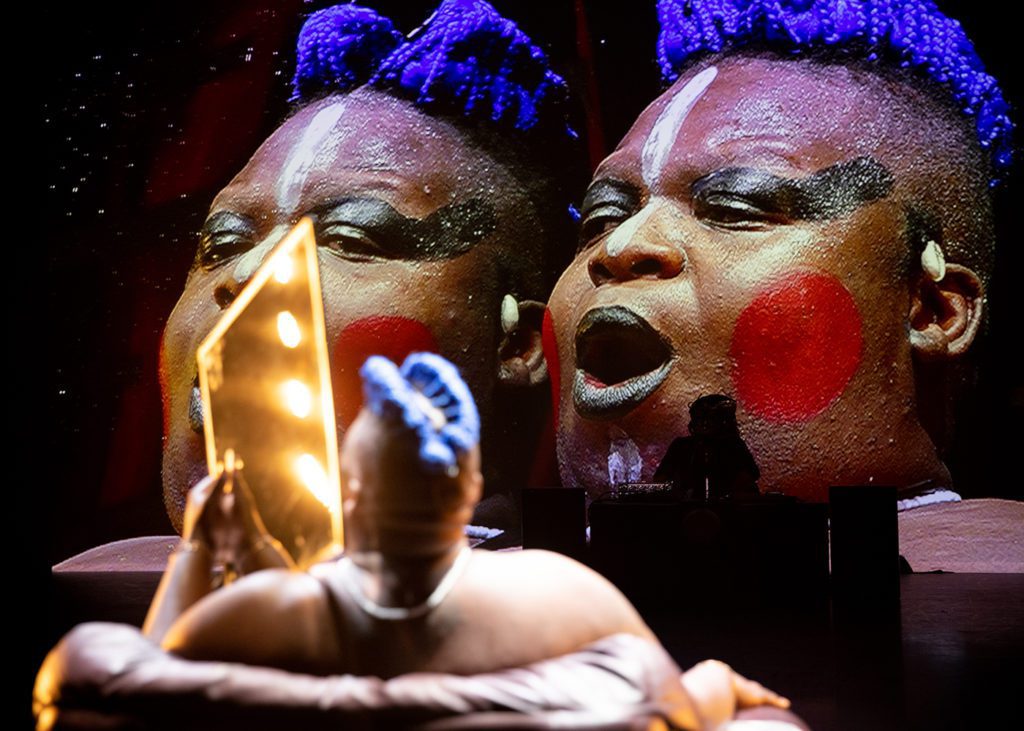 It is all too easy for the audience to disassociate during this kind of solo performance art. But Khoza's wit and warmth transcend all subject matter—the distant and near history of the pillaging of South Africa, the years since the end of apartheid, homophobia, and corrective rape—language difference, and any other barrier to understanding that may have exist. In one glorious and hilarious scene, two members of the audience are singled out and beckoned to the stage: "I won't bite, I'm not a savage." Each is given a scrubbing mitt and called on to wash the sticky orange off of Khoza as he spritzes his body with a spray bottle of water. Making the most of what could have been schtick, Khoza asks them about their lives even as he prods them to keep going. He quips, "You are a woman, multi-task," and chides them both with," I fly first-class, never forget that." They pose for a group photo before he sends them back to their seats.
He is grateful for their attentions and says, "thank you," in multiple languages. This recitation leads to a spirited bit of vogueing where Khoza breaks out of the frame and manipulates his ample body. When his face returns onto the screen he cycles through various animal sounds, known and unknown ("this is supposed to be a mongoose"). He winks, smiles, growls. The whole-body choreography moves from his face to his toes, as they alternately tap the floor.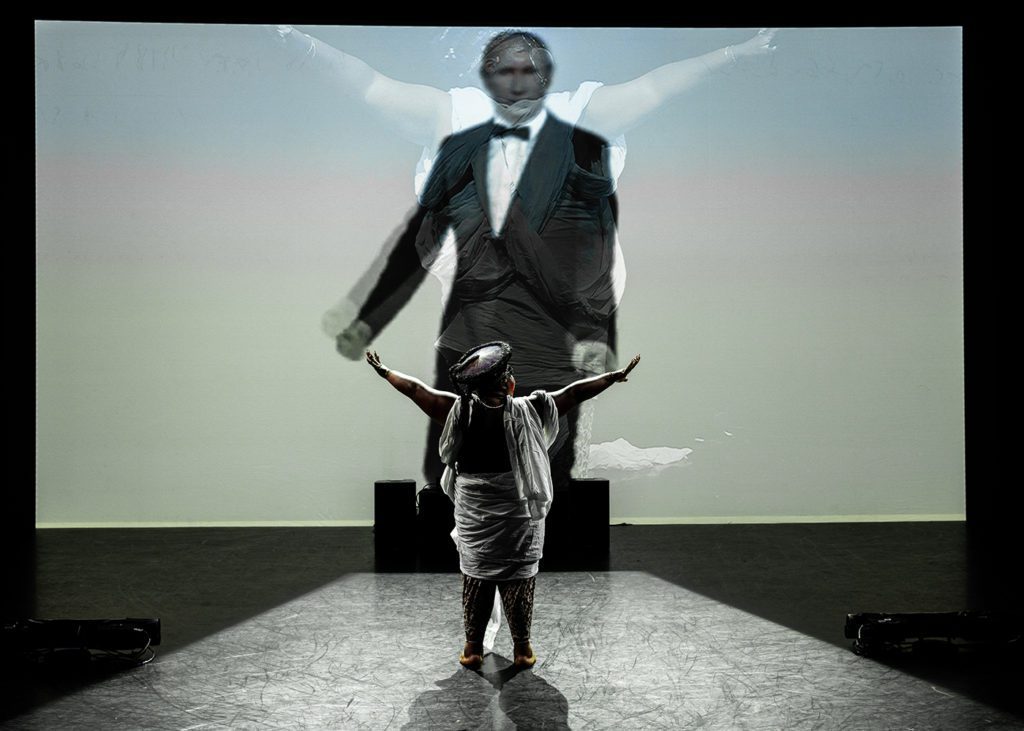 But really, this tanztheater is just a prelude to getting "gorgeous for a special date." Brandishing a rectangular mirror and settling it on his shoulder, so that you can see his face both straight on and in profile on the screen, Khoza paints his face like a Nubian princess: first a white line down the center, then two red circles on his cheeks, and thick black lines across his eyes. When he brings the mirror down to his lap and leans over it, the image is inverted, and we glimpse his self-satisfied grin upside down. He tells us the stories of his diamond rings as he puts one on each finger, casually mentioning these minerals are all in abundance in South Africa. Later, when an awkwardly dancing gif of Vladimir Putin appears as his date, he offers these natural resources to Putin in exchange for money (the money is "for me, not savages") and guns.
But Putin's lack of response is insulting to Khoza's corrupt royalty, particularly after he has also offered the shores of Africa as a dump for Putin's garbage. Donning a skirt made of colorful feathers and whips, he proclaims in defiance:
"A beautiful thing about my people is we dance with our weapons."
He talks to Putin as he dances, the whips creating percussive accents. With his arms now attached to the skirt, his appearance becomes bird-like. Bright turquoise and pink fan out from the shadows he is creating on the screen. A metamorphosis is taking place as he ripples his spine and twirls until his face is barely visible in all of the fluff of the feathers and the leather tendrils of the whips.
Winding down and backing into his chair, pushed there by a phrase of heavy, rhythmic breaths, he is brought back to his realization: "It is better to dance with your weapons than to kill with them . . . better to dance than kill." At this point, he is bathing himself in blue paint, squeezed out of large bulbs attached to a spiky necklace, and singing what sounds like a lullaby.
Pule walks downstage with a mini projector in his hand and a small frame appears on Khoza's torso. As Khoza backs up, the image grows until we can eventually see it revealed on the screen: a child soldier wearing fairy wings and holding a large gun. The image blurs and recedes as Khoza walks offstage, still singing in the dark.