Performance
L.A. Dance Project: "Be Here Now" by Benjamin Millepied
Place
L.A. Dance Project Studios, Los Angeles, October 27, 2022
Talk about in-your-face ballet! "Be Here Now," a one-hour abstract work choreographed by Benjamin Millepied, who founded his L.A. Dance Project in 2012, was thrilling, energetic and insanely beautiful. Under the banner of "Dance Reflections," and presented in partnership with Van Cleef & Arpels (would that the French luxury jewelry company spread its baubles/euros around to more L.A.-based dance troupes), the company premiered the work in June at its black box studio in the City of Angels and was mounted there again last week. (The troupe also did a brief stint at Paris' Théatre du Châtelet in mid-October, when "Be Here Now" not only featured live musicians, but also a set design by visual artist Barbara Kruger, both absent in Los Angeles.)
Still, the score (heard on tape), was propulsive, dynamically rich and ear candy of the highest order, providing oodles of satisfaction: "Entr'acte," an 11-minute string quartet performed by Attacca Quartet and composed by Pulitzer Prize-winner Caroline Shaw, opened the evening, with excerpts from Andy Akiho's 80-minute, 11-part Grammy and Pulitzer Prize-nominated, "Seven Pillars," also proving the perfect percussive milieu to Millepied's high-octane, riveting choreography.
With Shaw's piece mining the minuet and trio form, a quartet of women dancers—Nayomi Van Brunt, Daisy Jacobson, Sierra Herrera and Daphne Fernberger—all clad in black shorts and sheer ecru tank tops over sports bras, design courtesy of Millepied—moved through a sequence of unisons replete with leaps and slo-mo pliés, their outstretched arms a nod to female power.
At one moment playful, another proffering a hunchbacked walk, the foursome also clasped hands and occasionally assumed sculptural poses that, when accompanied by a throbbing pizzicato in the music, created a spirited, slinky-shouldered, sybaritic dance.
Next up was a quintet of similarly clad men moving to Akiho's clangorous soundscape: A non-stop musical spree recorded by the four-man group, Sandbox Percussion, the score exploded with an assortment of drums and marimba, the perfect accompaniment to the opening male contingent, which, at times, seemed like a huge terpsichorean, well, rave.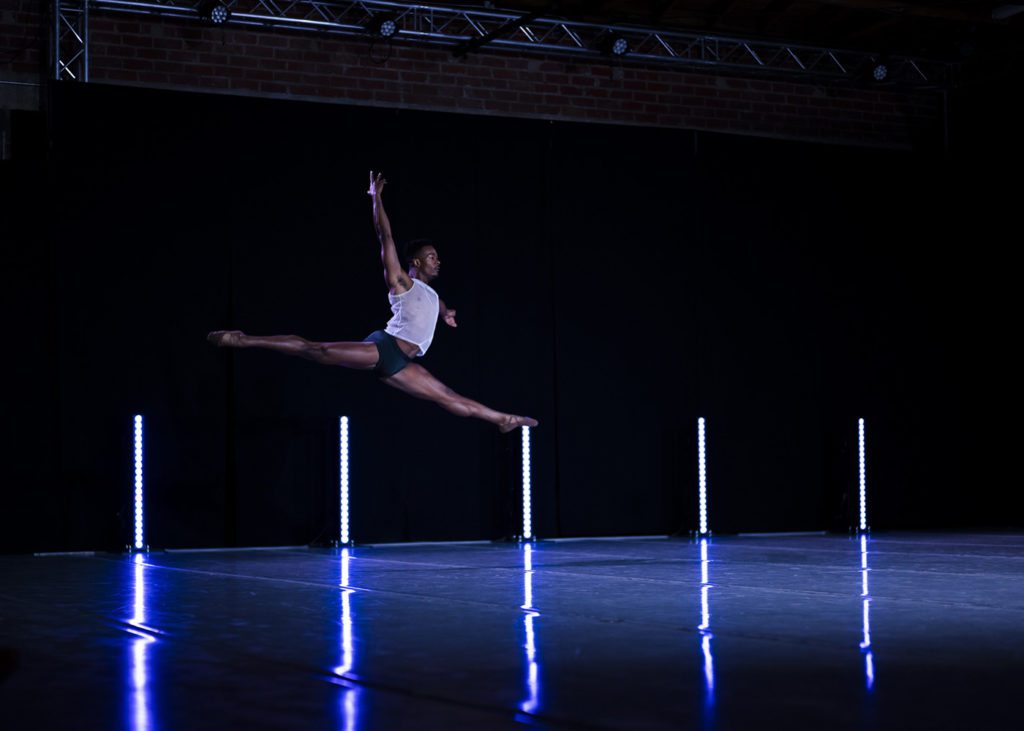 Here was David Adrian Freeland, Jr. owning the space with spectacular jetés and, in a duet with Mario Gonzalez, giving new meaning to the word 'passion.' This chorus line of males also included Vinicius Silva, Lorrin Brubaker and Peter Mazurowski, Apollo-like beings moving seamlessly from leaps into lunges—as well as adding a dash of neo-spooning on the floor—all part of the magnificent movement package guaranteed to please.
When five gals joined this testosterone extravaganza, the couples exuded a joyous strength, the muscular lifts awash with a kind of nobility in this Baroque-ish segment, albeit one that, at times, had the feverish feel of the marathon dancers in Sidney Pollack's 1969 film, They Shoot Horses, Don't They?
Akiho's riotous music also featured vibraphone, glockenspiel, wood blocks and the like (hello, tuned metal pipes!), and, as it thrummed along, was ideal accompaniment for the abundant solos on display: Fernberger boasted a slinky but sweet attitude; Courtney Conovan adopted a pseudo-mechanized "Coppélia" stance at one point; Jacobson seemingly had the ability to float mid-air, arms overhead, her outstretched legs in near second position; and Van Brunt beamed non-stop at every turn—and could she turn!
In addition, an expressive Kinouchi moved with the grace of a gazelle and the ferocity of a warrior in his dazzling array of pirouettes and backward hops,
With the incessant percussive clanging (in a good way) of Akiho's inspired score, Balanchine's famed quote, "See the music, hear the dance," came to mind—but in a somewhat different form: These brilliant performers not only appeared to be channeling the music, but also gave the impression of becoming the music!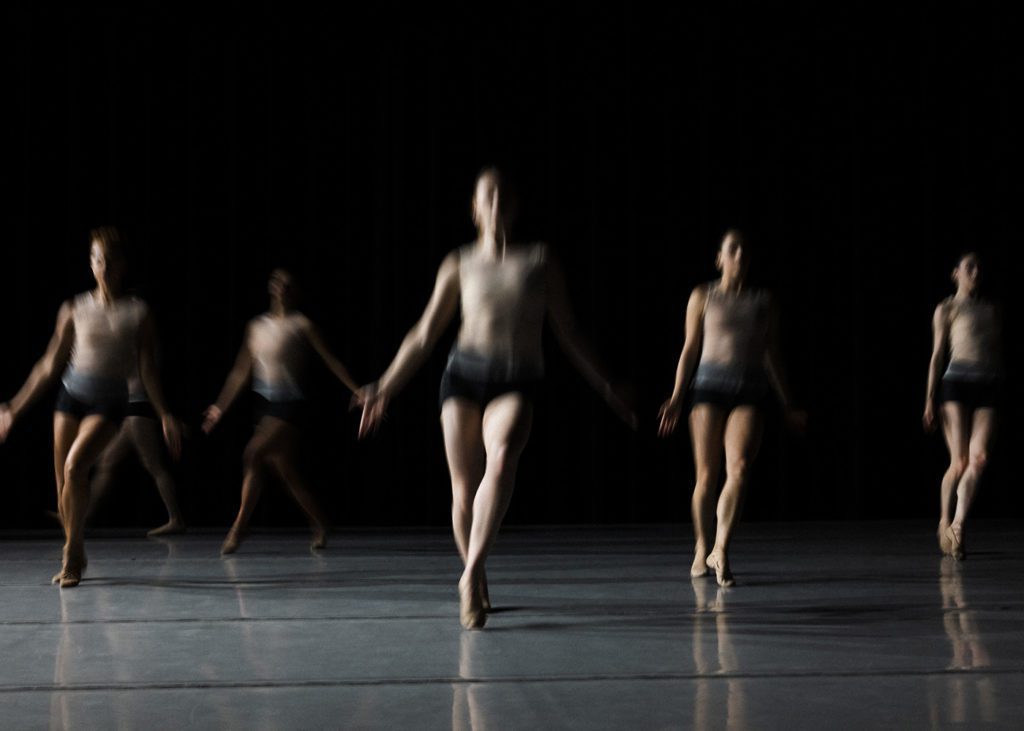 Adding an incandescent glow and enhancing the hyperactive mood was Clifton Taylor's lighting design. Adapted for the dance studio by François-Pierre Couture, it was simple but effective, with five vertical bars placed on each side of the stage—all the better to highlight the super-human aspects of the dancers.
Indeed, a testament to what the body can do, "Be Here Now" forges an ideal marriage between music and up-close-and personal ballet that epitomizes living—in this case, dancing—in the moment. With its relentless rhythms and heart-pounding choreography that necessitates and screams out for superb technique—including a brief bit featuring neo-fouettés—this viewer pondered the idea that Millepied, a former New York City Ballet principal, might possibly be some kind of a sadist, though surely of the more benign rogue/rascal school—and one, decidedly, in pursuit of art.
Nevertheless, a Frenchman through and through, with LADP having performed numerous times in France, including at the Palace of Versailles in 2015 while Millepied was doing a brief but troubled stretch as director of dance at Paris Opera Ballet (2014-2016), the choreographer and his company would, no doubt, have made Louis XIV proud.
And for those Angelenos who weren't able to attend the recent appearances, the troupe brings its "Romeo & Juliet Suite" to Segerstrom Center for the Arts, May 12-14, 2023.
Viva la danse!