Performance
Birmingham Royal Ballet: Into the Music
Place
Sadler's Wells, London, UK, November 3, 2022
Dramatic set designs and sweeping contemporary ballet combine in this mixed bill from Birmingham Royal Ballet, which pieces together three new additions to BRB's rep, each with a live orchestral score. Jiří Kylián's "Forgotten Land," created on the Stuttgart Ballet in the 80s, sends six couples wafting through the wilds of Benjamin Britten's Sinfonia da requiem, while Uwe Scholz marshals the stateliness of Beethoven's Seventh Symphony in a like-titled ensemble ballet from 1990. The hardest-hitting piece, "Hotel," a new commission from Morgann Runacre-Temple, isn't as musically driven as its companions, though Mikael Karlsson's score slickly informs its eerie mood. Either way, it's a brilliant piece of stagecraft—the kind I'd be happy to see on any bill, outlier or not.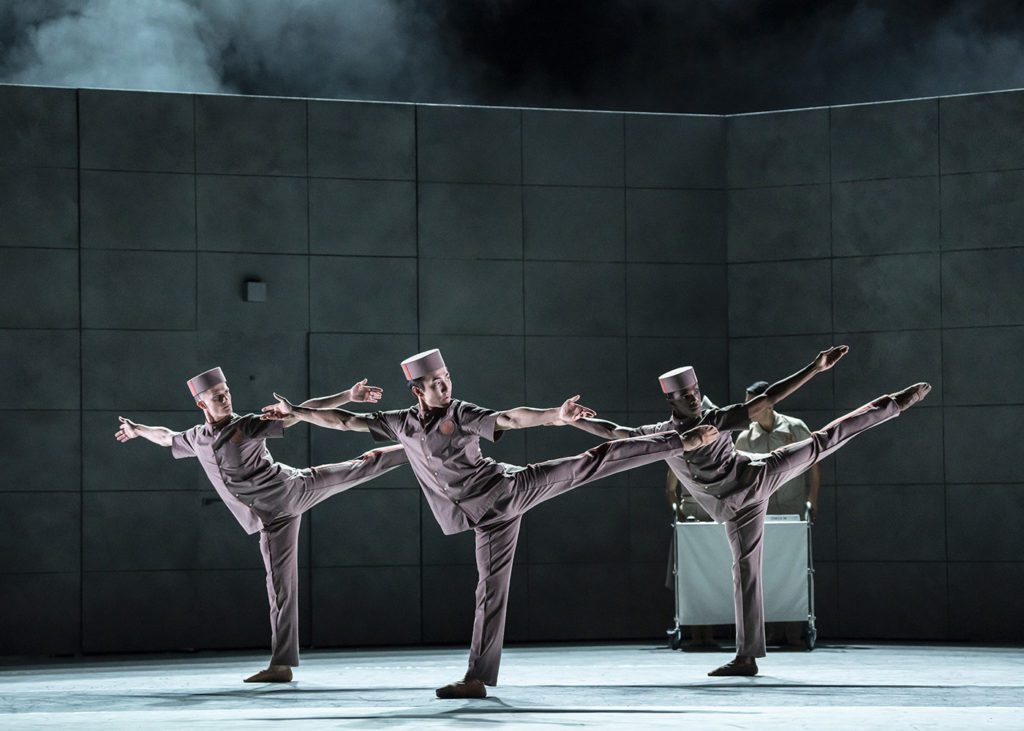 It's fortuitous timing that "Hotel" premiered same week as the new season of The White Lotus—I, for one, was primed for a glimpse of the ropey twists awaiting strangers on vacation! The half-hour work unspools various narrative threads at a dimly lit guesthouse, some clear-cut, others foggier, all cast in a noirish sheen: hotel clerks attending to new arrivals who sail onto the premises, suitcases in hand; bellhops and waiters advancing in sleek seen-but-not-heard fashion. I say 'unspools' rather than 'weaves' because the story plays out like an unravelling of reality; presumptions and plausibility coming undone bit by bit until it's all a surreal tangle of ghoulish lights, shabby décor, and staff who definitely know something their guests don't. I loved it.
Tzu-Chao Chou and Beatrice Parma are our managers, deftly overseeing the back-of-house choreography that keeps hospitality establishments on the trot. There's a frantic overtone as they recede and reassemble in step with the guests' movements, but underneath the commotion is a sense of string-pulling: the guests only think they're the ones in charge. Karlsson's moody score, with its creaking, mysterious horns, subtly shepherds this wink to the audience.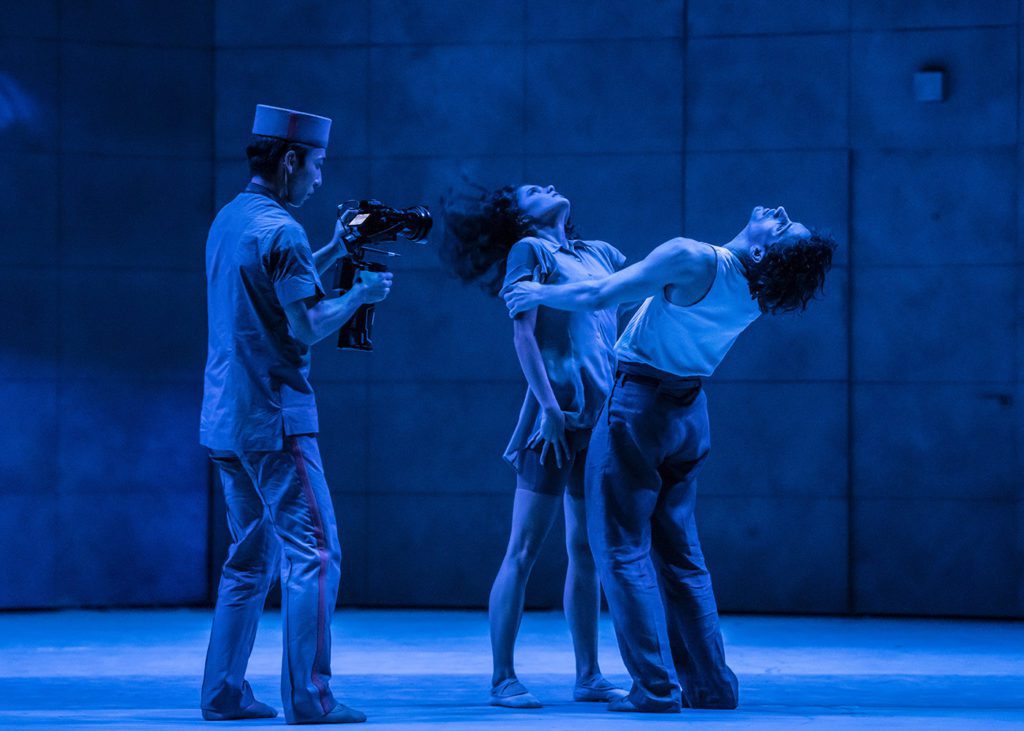 Runacre-Temple has teamed up with Jessica Wright (her partner at Jess and Morgs Films) to incorporate some imaginative filmwork into the piece, including live CCTV footage of action behind closed doors and a handheld camera that projects a real-time feed onto the walls of the set. The camera captures knowing looks and unwitting reactions; in one scene, it zooms in on a chef peeling potatoes, relaying a close-up that catches the live feed in back of the same frame, a mirror loop of chefs both real and projected, all glancing in perfect unison.
There's an air of mischief to the irregular blend of dance styles, which leap from flexible lyrical feats to zippy exotic numbers, with some whimsical moments in between (I'm thinking specifically of a bellhop who glides in on a luggage cart, leg outstretched in arabesque). The most compelling scene is also the most incoherent: a trippy ensemble number featuring shadows of the cast as well as the set itself; bodies and silhouettes moving together, blurring the line between real and surreal. It's a good-humoured sort of haze, designed to make us smile as we scratch our heads. It almost feels like we're in Pina Bausch territory when Matilda Rodriguez enters with her head buried in her shirt and her hand poking through the neckhole, creating the weird and wacky illusion of an ostrich wandering through the hotel. The scene doesn't take itself too seriously, and the result is seriously engaging.
"Forgotten Land" is more abstract in tone and texture—a gusting rumination against a sensual, stormy skyscape. A series of duets climb different dramatic heights. There are tossed heads and synced curves from Céline Gittens and Tyrone Singleton, who kick their legs in chorus with menacing brass notes, while Yaoqian Shang, Lachlan Monaghan scoot and skew their way into increasingly gymnastic poses. There's a gorgeous elasticity to the choreography, even in its more slicing moments. Some of the pairings allude to the different guises of an Edvard Munch painting, but the thematic footprint feels light-touch, open to interpretation. My favourite phrases unfurled like a heavy sigh, bodies languid but not loose, wafting like they might change direction if a strong enough wind came along.
The bill closed on the eye-grabbing stripes of the zebra-esque set for "The Seventh Symphony," vivid as the Fruit Stripe Gum label. The neoclassical confection is a winsome suite of big-group phrases and pleasing ripple effects. The first movement is bright and playful, the dancers darting in jeté like popping candies. Bourrées culminate in sculptural poses; ballerinas beam as they're dragged in splits and dipped en masse. The bounciness slows in the second movement, with its slower, more serious tint, before revving back up for the triumphant third and fourth ones. Momoko Hirata and Tzu-Chao Chou shoot across the stage like stars in the whip-fast finale, a pinwheeling ensemble caught in their slipstream. The cosmic glow—which climaxes when the cast joins hands in a semi-circle, like aliens about to board the mothership—is a stellar contrast to Beethoven's grounded notes.