Performance
New York City Ballet Fall Fashion Gala
Place
David H. Koch Theater, Lincoln Center, New York, NY, October 5, 2022
The Koch Theater was packed to the rafters for the New York City Ballet's 10th Fall Fashion Gala. The evening's honoree and mastermind, Sarah Jessica Parker, was unfortunately absent (due to a death in the family), but everyone else sure turned out: the evening raised a record-setting 3.4 million dollars. It was good to see the house stuffed to the fifth ring; the repertory performance I saw the Wednesday prior was a ghost town. I'm guessing the fabulously clad crowd was there for the fashion, but I was most eager to see Kyle Abraham's new piece. His 2018 entry, "The Runaway," was one of the few Fashion Gala ballets to survive past its inaugural run. His premiere was slated last on the bill, but there was a lot to be excited about before then. Solange Knowles was making her debut as a ballet composer, and a ballet by Justin Peck that premiered virtually in 2021 (under the direction of Sofia Coppola) would be danced live for the first time, with a new costume by Raf Simons. The cocktail-hour looks were diverting, and the Where's Waldo? hunt for a glimpse of Beyoncé was on. (I'm told she slipped quietly into the first ring for her sister's ballet and slipped right back out.)
City Ballet attempted to drum up even more anticipation by opening the program with Balanchine's greatest hype-machine: the 4th Movement and Finale of "Symphony in C." Yet it didn't scintillate like it can and should. Of the nearly 50 people onstage, only Ashley Hod and India Bradley had the requisite pep in their steps. I especially missed Tiler Peck and Lauren King leading the 4th movement, which requires hummingbird footwork and a go-for-broke attitude. Emilie Gerrity, in a debut, had a megawatt smile, but it couldn't mask her reticent, muddy approach. The word "acquitted" kept coming to mind. Everyone more-or-less acquitted themselves, only Hod dazzled. After a long break for speechifying and arty videos, the premieres at last began.
Up first was "Play Time," choreographed by Gianna Reisen to the commissioned score by Solange, with costumes by Alejandro Gómez Palomo for Palomo Spain—and what costumes they were! Each dancer wore a glittering suit in a single, ombréd color. The palette was wonderful: an unusual mix of jewel tones, beiges, and near-neon, which looked best up against a burnt orange cyclorama (the neat, saturated lighting was by Mark Stanley). Reisen did a nice job of arranging her cast of bedazzled crayons into little clusters and then blasting them apart to every cacophonous interruption in the jazzy score. I liked a gritty solo for Chun Wai Chan, a red Elvis, who was joined by Christina Clark for a pretty duet to a breathier musical interlude. Unity Phelan, in a white rectangular peplum, corset, and tight hood, was great in an odd solo of plié bourrée soutenus and side-split leaps to cymbal crashes. Harrison Coll, a purple MC Hammer, did a nice job of a slouchy Bojangles solo, in which blaring horns faced off against a simple piano refrain.
The whole cast looked terrific, though the piece was rather lightweight overall. But I admired how Reisen heard Solange's choppy score and incorporated the extreme shapes of Palomo's costumes. At one point, the whole stage was backlit to stress the silhouettes, at another it was half-shadowed, like in Jerome Robbins's "Interplay"—with which "Play Time" shared many themes (the brassy syncopation, the color-blocking, the playful camaraderie, the title). But Reisen pulled from all over the rep, including the iconic goalpost arms from Balanchine's "The Four Temperaments." Her funkified chorus-line finale and the sparkly Skittles gang pose at the front of the stage before the curtain fell were also strong. This is Reisen's third work for the company, and all three have been FFG commissions. She has met the moment well each time, integrating the challenges of her assignments in appealing ways. But I'd like to see her start with a blank canvas—to make something without the collaborative handcuffs. She's young and pretty and she looked chic in the behind-the-scenes film, so I get why they keep tapping her to entertain the fashionista set, but she deserves a Spring Gala slot at this point. It's time to see what a top-down Reisen ballet looks like.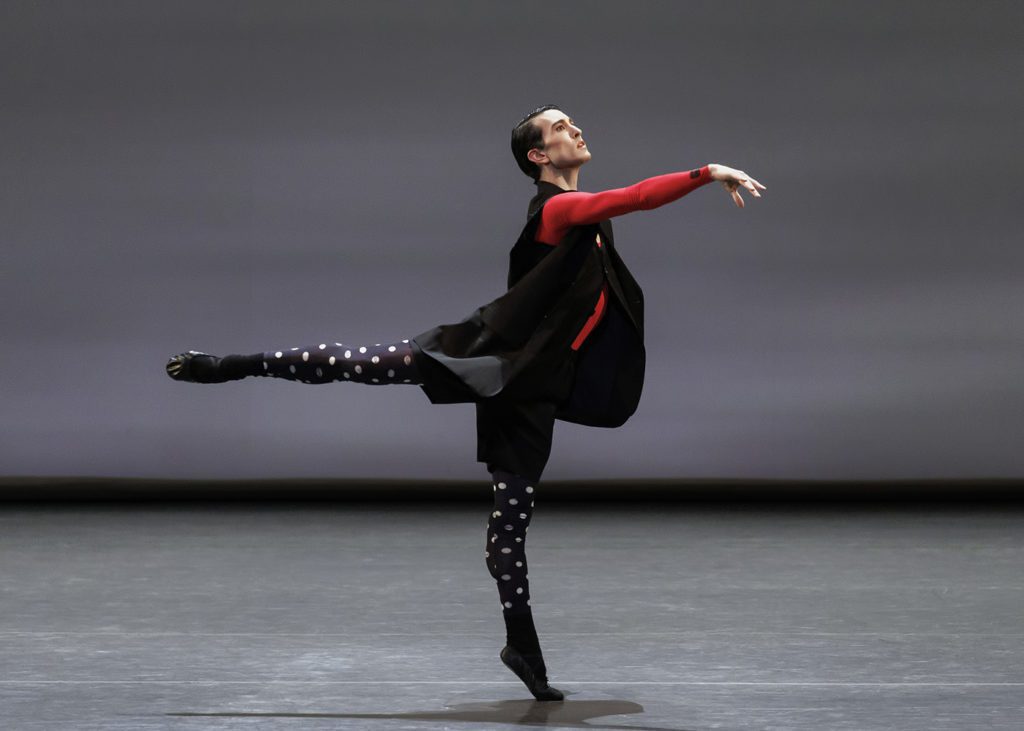 Anyone who thinks that fashion doesn't matter should witness the extreme transformation of Justin Peck's "Solo" from when it was danced in simple practice clothes to its Fashion Gala incarnation in red, black, and polka-dotted layers of demi-suiting by Raf Simons. In neutral garb for the virtual gala, Anthony Huxley represented the collective pandemic spirit as he roved and spun around the stage to Samuel Barber's turbulent Adagio for Strings. He was an emotional avatar for us all stuck at home watching on our computer screens. In the Simons restyle, Huxley became one very specific person—seemingly a Hogwarts student who harbored a secret desire to be the next Alan Cumming instead of a wizard. Despite this massive shift in tone, Huxley was gorgeous. Whether on film or in person, in spare or statement dress, this dance brings something unique out of him. In a Gala video interview, Peck mentioned how "Solo" was the rare piece to be choreographed without a mirror, thus Huxley's feedback was based on pure feeling—internal reflection as opposed to his visual reflection. Whatever the case, Huxley and "Solo" managed to transcend the wacky new look, but the impact of the piece was considerably narrowed. I really hope to see it danced in something simpler in the future. In sleeker dress, it could become a repertory staple.
The night before the Gala, I saw the live debut of another spellbinding male solo from the pandemic: Jamar Roberts's "Morani/Mungu (Black Warrior/Black God)." This coincidence made me realize that some of the pieces that have stirred me the most in recent years have been introspective solos for men—not standard fare in the ballet world. Especially in Balanchine's world, where solos for women greatly outnumber solos for men (like in "Raymonda Variations" with 7 to 2, or "Divertimento No. 15," with 5 to 1). The Cavalier in Balanchine's "Nutcracker" doesn't even get one! But "Solo" and "Morani/Mungu" are part of an inspiring spate that includes Roberts's "You are the Golden Hour that Would Soon Evanesce," and a slew by Kyle Abraham: "to be seen," "Ces noms que nous portons," and Taylor Stanley's solos from "The Runaway." Funny enough, one example was by Balanchine himself: the solo he created in 1959 for Paul Taylor in "Episodes." It was revived in 2020 (for the first time since 1989) but cut from the ballet again this season. Why? It transforms "Episodes," elevating it from a second-tier Black and White to something more cohesive and powerful. Since we're one the topic of fashion, City Ballet would do well to follow the trend and keep it in. But Abraham is the modern-day master of the form, and "Love Letter (on shuffle)," his new ballet, opened with another prime example: a beautiful pop-and-lock solo for Jonathan Fahoury to the electronic R&B of James Blake.
Like "The Runaway," "Love Letter" is a collaboration between Abraham and fashion designer Giles Deacon, again with music by Blake. It could have been titled "The Runaway 2." It was basically a sequel, maybe a TV show that got extended for a second season. It had some returning cast members and a few new stars, and it featured the same conceptual mashup in costuming: courtly pantaloons, collars, and big tulle skirts vs sleek unitards. I loved "The Runaway," so I was not unhappy to see more of the same. Nonetheless, I was a tad disappointed. I'll analogize in a nod to the majestic Gwendoline Christie, who was in the Gala audience. I was a big fan of Game of Thrones, so naturally I am watching its offshoot, House of the Dragon. The new show is pretty good: some aspects of it are better, some are worse. But I'm not as invested in it or excited by it as I was the original. After all, the second time you turn a royal wedding into a bloodbath, it doesn't pack the same punch. Ditto the use of extreme headdresses alongside street posturing in balletic duets for men.
Where "The Runaway" was razor sharp, "Love Letter" is lugubrious, though the lack of an intermission over four ballets, two speeches, and two videos could've exacerbated that feeling. But overall, it seemed that Abraham ran a tighter ship the first time around. "Love Letter," at nearly 40 minutes long, is almost 10 minutes longer than "Runaway." Certainly, it was overly padded with repetitive, TikTok-y solos for Tiler Peck. But the murky brown prints of the "Love Letter" costumes were less striking than the stark black and white prints for "The Runaway" too. In the same way, the all-Blake "Love Letter" soundtrack was more monotonous than "The Runaway's" dynamic juxtapositions of rap, soft piano, and Blake. But "Love Letter" had two beautiful, resonant pas de deux going for it. One, for Fahoury and Harrison Ball, was tenderly erotic (here was the heat that was missing from Ball's dance with his lover in "La Sonnambula"). The other duet, for Emily Kikta and Peter Walker, was silky, trusting, and rapturous. All four dancers were excellent, though Kikta was a revelation. She can often seem emotionally guarded; here she was confident, open, and in-the-moment. She won the Gala, as far as I'm concerned.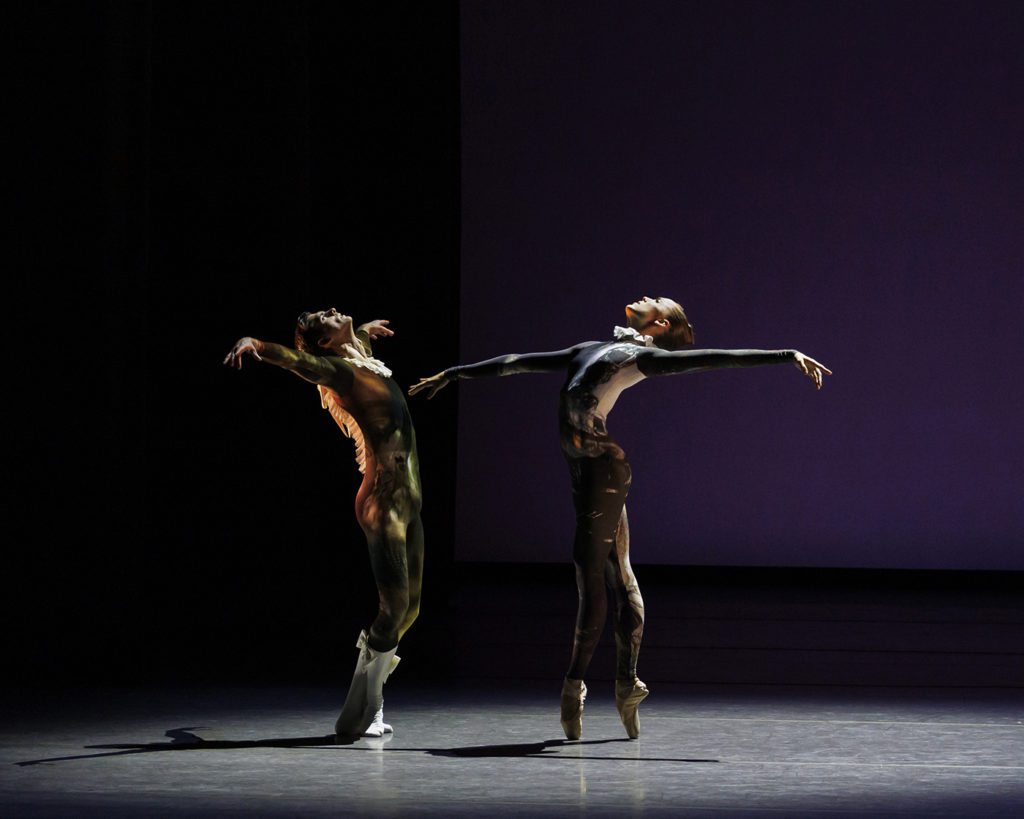 Abraham succeeded again too, but to a lesser degree. "The Runaway" was a piercing investigation of the history of ballet, with the wild Deacon costumes and disparate musical choices all coming together to support Abraham's grand vision. "Love Letter," in contrast, was more personal in scope. It didn't seem to benefit as much from its brash costuming, and I wondered if it might be a better work pared down. If Abraham wanted to explore themes of intimacy to the moody tracklist of one artist, simpler outfits could've helped. Even Abraham—whose forte is smashing genres against each other like particles in the Large Hadron Collider—seemed weighed down by too many elements this time around. And therein lies the rub with the Fashion Gala: iconic works of art rarely come out of a cross-promotional, pop-up construct. "The Runaway" is the outlier of the 10-year enterprise.
Ideologically, the Fashion Gala has always been an uneasy fit for the company. Founding choreographer George Balanchine spent his entire career moving away from the hyper-curated collaborations he was commissioned to make by Serge Diaghilev for the Ballets Russes. Streamlining the art of ballet was his life's work—the technique, physical aesthetics, narratives, and costuming. His biggest edits—sartorial and otherwise—are legendary: "The Four Temperaments" lost puffy sleeves, feathers, spiky tulle, and horns, "Concerto Barocco" lost pointy helmets and a codpiece, "Square Dance" lost fiddlers and a caller, and "Apollo" lost wigs, craggy hills, a staircase, and vaginal labor. These works all started out rather quirkily specific, then Balanchine chiseled away at them (sometimes over decades) until he exposed their core essences—their enduring, elemental magic. Sure, Balanchine understood spectacle and could do maximalism when the need arose ("The Nutcracker," "Stars and Stripes," etc.), but he is most famous for his timeless abstractions like "Agon" and "Symphony in Three Movements"—the Little Black Dresses of the dance world. One night of dress up each year can't hurt (heck, it's fun! like Halloween), but to expect lasting masterpieces to derive from a format that goes against the troupe's ethos is a fool's errand. Fast fashion isn't the City Ballet way.