The international dance festival Colours in Stuttgart is a fairly young endeavour. Commencing in 2015, it repeated every two years through 2019 and restarted this year with a grand program. Launched by Eric Gauthier together with Claudia Bauer and Meinrad Huber, the festival has received international acclaim since its conception. As often dance festivals do, it brings together dance professionals, amateurs and enthusiasts in a friendly environment where it's possible to relish in a vibrant and colourful atmosphere. 
Of the rich international program, showcasing 17 productions from 11 different countries, I was able to attend several shows that ranged from the political, the surreal and the amusing, to the acrobatic, participatory, theatrical and purely aesthetically driven. 
I began with Guy Nader and Maria Campos (Lebanon/Spain) who presented "Set of Sets." This piece focused on the concept of time. The stunning performance danced by Maria Campos, Guy Nader, Noé Ferey, Patricia Hastewell, Alex de Vries, Tina Halford and Héctor Plaza unfolded as a well-executed experiment with exquisite outcomes. Can time be performed? And if so, how could it be embodied? The performers cleverly represented time, snowballing towards a brilliantly executed crescendo of highly acrobatic and breathtaking jumps, break dance virtuoso, moments of stillness, complex body compositions and canny contact sequences.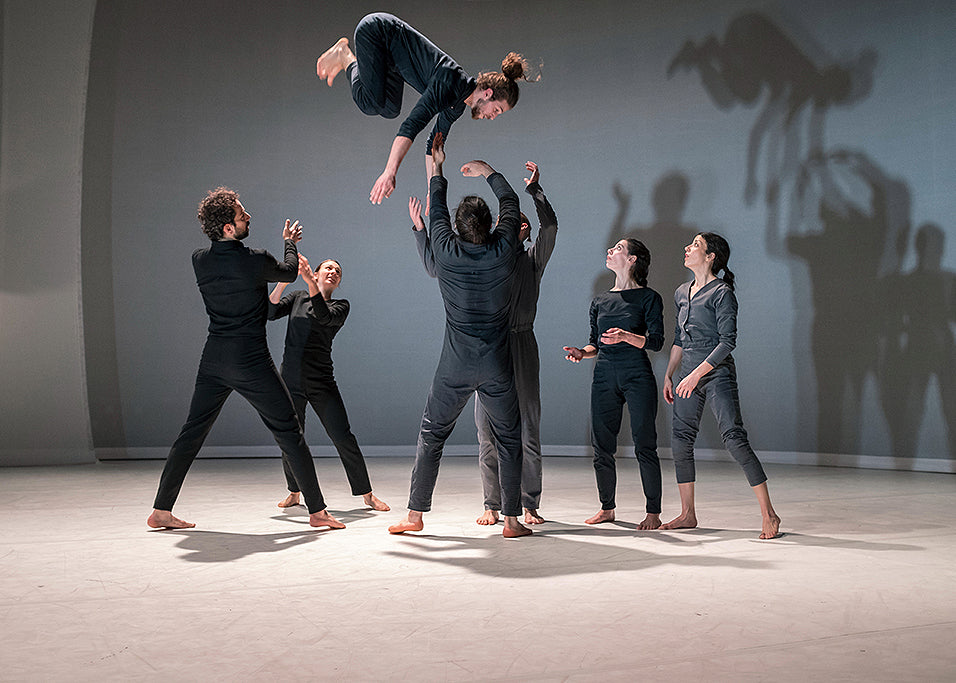 The innovative and well-processed choreographic ideas superbly embodied the multitude of possible perceptions of time. Fractured, still, slow, fast, vortical, repetitive, stretched and hectic, brought to life on stage by this outstanding group of dancers. At certain points the group would stop, frozen, entangled in one another, a timeless still-frame, eventually broken by the introduction of a giddy and engaging rhythm. The dancers functioned like clockwork; perfect mechanisms relying on finite synchronicity and complete trust in one another. Drawn in by the physical and mental presence and awareness of each performer; I felt dizzy with delight and surprise for the duration of this suspenseful show. 
From acrobatics to filmic scenarios, with Spanish-born Marcos Morau's new piece, "Sonoma," composed of the Greek word soma (body) and the Latin word sonum (sound). It was a dark and disquieting piece where surrealistic and provocative Buñuel aesthetics, ecclesiastical rituals, funeral processions and disguised characters inhabit a strongly cinematographic stage. Nine sinister women embody and impressively expressed a plethora of facets related to traditional Spanish processions and their attributes. The women conjured an air of despair, anger, pain and hysteria together with strength, determination and resilience through grimaced faces, texts about emancipation recited in French, screams, giggles, panting breaths and impressive controlled body movements.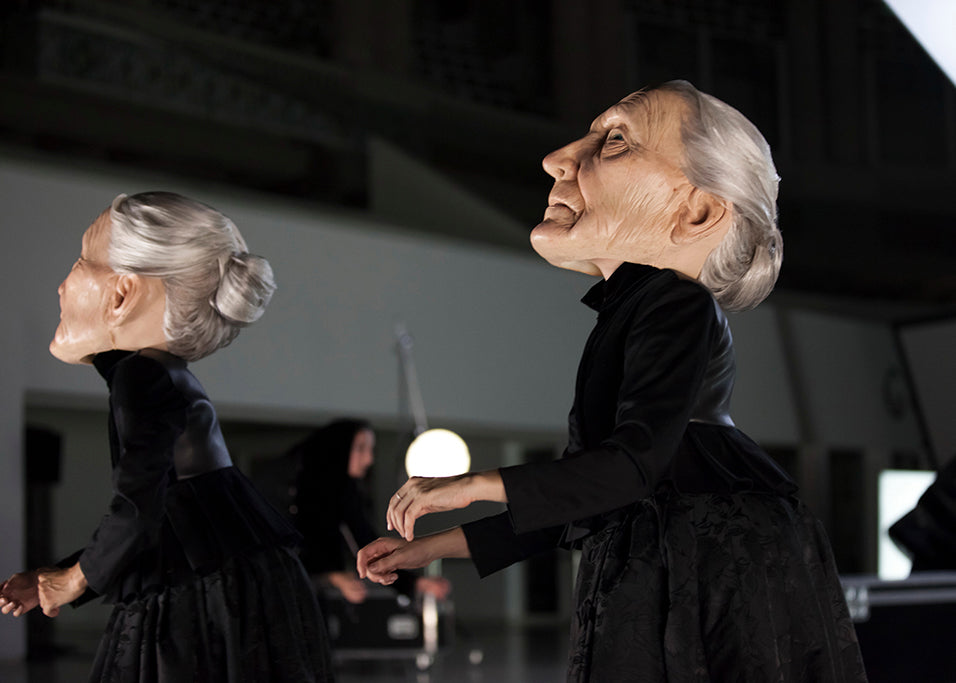 Debussy and Wagner melodies surrounded the grotesque figures that whirled around in traditional Spanish costuming, calling to mind religious sects or traditional communities. La Veronal's distinctive movement aesthetic is extremely precise, at times robotic, somehow too perfect to be human, which gave me the impression of witnessing unreal beings in place of human bodies. White enveloped the stage with lit-up screens, flowering crowns and luminous balls; perhaps representing the souls of the departed. Black is the counterpart found on scene, in the traditional peasant-like costumes, and on the moving trunks employed as coffins. Morau and his dancers' intentions appear to parallel what Buñuel aimed for with his films; "… disturbing people and destroying the rules of a kind of conformism that wants everyone to think they are living in the best of all possible worlds." "Sonoma" is an artistic, religious, folkloric and mystical investigation, which impressively burrows into the soul and unsettles the mind. Indeed a sublime artistic creation based on folkloric ritual, produced with excellent aesthetic design in set, costumes, lights and of course, the choreography. 
"Participatory" was replaced in the program by "Kamuyot;" performed by Gauthier Dance Company (Germany), which generated an amusing participatory event for the public. Ohad Naharin created the piece in 2003 on his own company, Batsheva Dance Company, and its sound-score is a mix of reggae, klezmer, heavy metal. and classical music. Great leaps, running, unison dance phrases, energetic moves and high leg extensions were all part of the choreography. Perhaps the most interesting moments were the interactions between the dancers and audience members. With eyes intensely locked on one another, gentle hands led spectators onto the stage, an invitation to dance. We observe adults letting go, playing freely with their bodies, smiling and giggling; a definite highlight of the show, which broke the ice and allowed dance to be viewed as something for all to take part in. 
Emitting a different tone altogether, yet amusing nonetheless, was "La Macana" (Spain), an endearing performance by father and son, Alexis and Paulo Ferńandez. The two Cubans based in Barcelona, together with co-choreographer Caterina Varela, presented a heartwarming piece that celebrates a father and son relationship; touching moments of conflict, empathy, and compliance and above all love. They quizzed each others' geographical knowledge, compete to see who's best in acting out silly scenes, mocked one another by impersonating each other's idiosyncrasies, they danced solos that prove their own virtuoso; and in the end, after a bold and playful fight with colourful inflatable pillows, they posed tender questions to one another in a contrastingly vulnerable and intimate moment. This pleasant performance showed spontaneity and an intentional cheerful foolishness, while representing incompatibility and conflict between two generations; all with an air of lighthearted charm and tenderness. 
Nederland Dans Theater (NDT) presented a triple bill; "One Flat Thing" by William Forsythe, "I love you, ghosts" by Marco Goecke and "Bedroom Folk" by Sharon Eyal. Particularly striking was the remount of Forsythe's work that continues to live as a masterpiece 22 years after its creation. Identical tables form the platforms on and around which the dancers moved with mesmerising precision, charisma and dynamism. They conquered a constrained space with force and agility, transforming it into a vessel of infinite possibilities within rigid geometric structures. Colourful costumes recall images of a group of scholars, as if rising above the limitations imposed on them by organised structures. The energetic outcome is simply magnetic.
Goecke's latest work with the company premiered at the new NDT Opera House Amare in The Hague in February 2022. As the title "I love you, ghosts" suggests, the piece confronts ghosts from the past that return to us at times, and the sad, traumatic experiences that haunt us still in the present day. Extraordinary solos, duets and group compositions showcased the individual skills and character of each performer. Beautiful forms emerged, even amid painful traumas and the repercussions. The act of vomiting, expertly performed, became a vehicle to rid oneself of something toxic. Perhaps it was a means to exorcise the spirits, or maybe symptomatic of their physical and psychological suffering. Nevertheless, this gloomy performance also reflects beauty and elegance; its splendid dancers shine through the darkness and appear as luminescent creatures in a turbulent night.
In Eyal's piece, loud techno music blared out over uncannily marching dancers. They appeared as involuntarily trapped by their own bodies, in an incessant repetition of controlled micro movements from high up on the tips of their toes. Perhaps they originated from some other dimension. Their rigid, task-based existence allowed for no freedom. Machine-like quality merged with an incredibly delicate and precise movement vocabulary that took space across the stage with stiff sensuality and self-affirmation. The execution of the work was once again phenomenal. The dancers embodied Eyal's vision and her distinctive style, reaffirming NDT as a magnificent company able to perform to the highest level and convey the essence of dance as art. The virtuosic and aesthetic degree to which NDT performed made this triple bill a sensorial experience and a gratifying pleasure for the soul and the mind.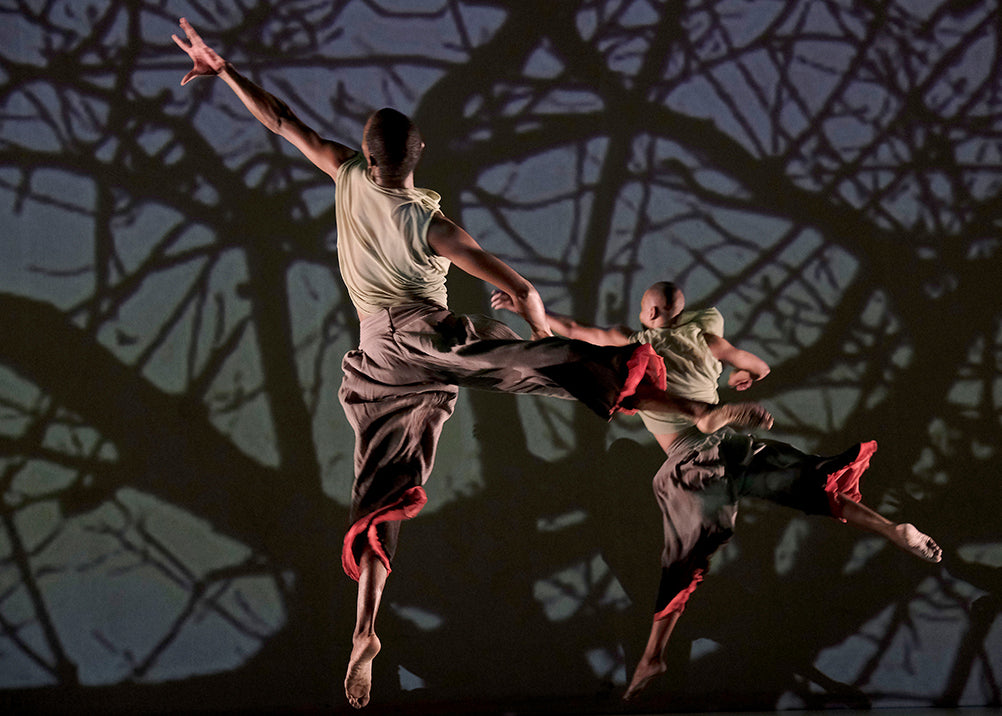 Dada Masilo (South Africa) from the Dance Factory presented "The Sacrifice." Masilo reached earlier fame with her radical interpretations of "Swan Lake" and "Carmen." This time she engages with "Le Sacre du Printemps," considered one of the most controversial ballets in the history of theatre. "What do we sacrifice in our daily life?" asks Dada Masilo. Her creation approaches themes relating to black identity, violence against women and injustice. The vibrant and visceral execution transmuted dismay into celebration through authentic movements of the traditional Tswana dance of Botswana. The music, played live, oscillates between African processional and folkloric rhythms often accompanied by the powerful voice of Ann Masina. The solos appeared instinctual and deeply rooted in their sorrows, and yet they radiated resilience. Fast paced movement phrases are halted by informal complaints from within the group, which add an amusing and unexpected touch to the solemn performance. Elegant yet sober costumes by David Hutt beautifully coloured the powerfully grounded dances. The collective is imposing yet helpless, showing agony and respect for the upcoming end. Dada Masilo's "The Sacrifice" produces the mental and physical space to mourn and yet simultaneously offers an invitation to grow and rise-up from the pains and perils of life.
Out Innerspace Dance Theatre (Canada) presented "Bygones." This original and theatrical piece is a remarkable creation based on the act of becoming. The movements were rigorous and virtuosic. The lighting design by James Proudfoot played a pivotal role in the piece. Five beautiful dancers entered the space, moving across the stage, and exited animating various props. The dancers at times appeared as statuesque puppets, suspended in air, or falling in slow motion from above. The memorable sound of pouring rain (sound design by Kate De Lorme) allowed for an immersive narrative and a peculiar atmosphere to develop.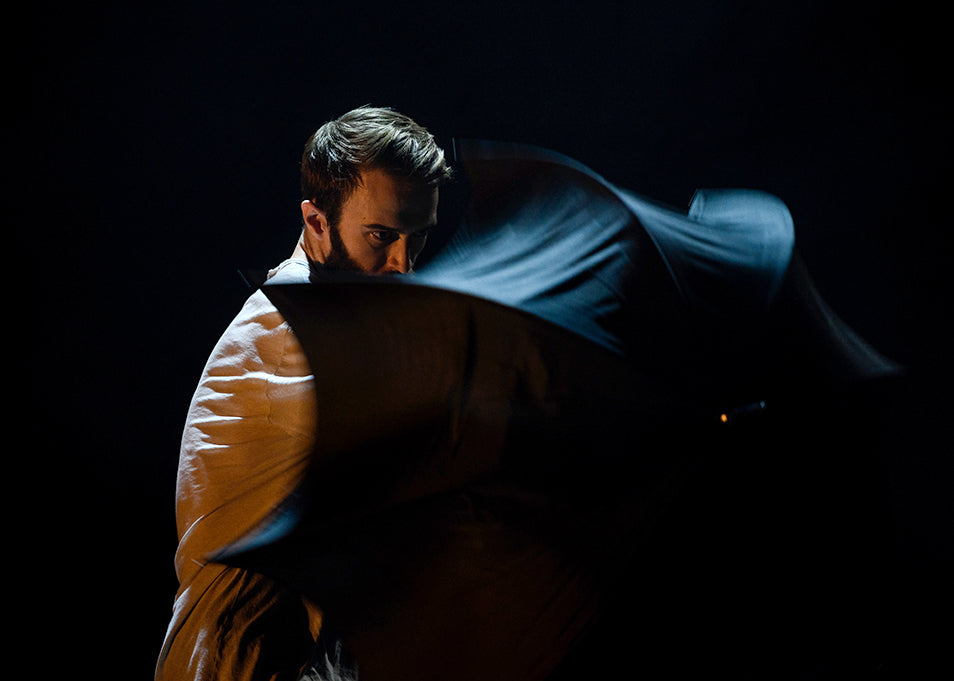 A captivating energy flowed through the cast. David Harvey and Renée Sigouin held a particularly graceful alchemy, while Elya Grant and Tiffany Tregarthen embodied wonderfully eerie characters. A black umbrella is repeatedly opened and closed depicting a breathing organ, an organic mechanism; a moment of simple aesthetic poetry. The performers pace several times along corridors of light with urgent daintiness and graceful tension. Walls and cylinders of light become physical yet traversable separations. "Bygones" is a dance-theatre piece brought to life with innovative ideas, interesting compositions and thoughtful choices in set, lighting and sound design. Superbly detailed movements created pulsing, engaging and surprising scenarios.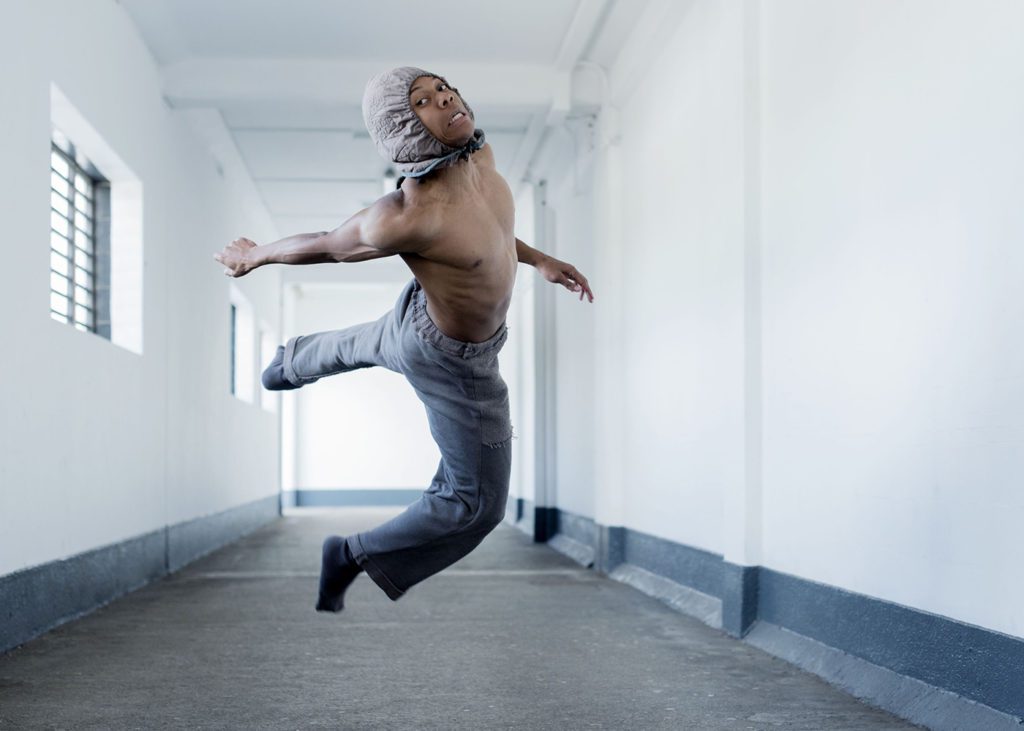 My festival experience concluded with "BLKDOG" by Botis Seva (Far From The Norm). I discovered that "black dog" was how Winston Churchill described his experience of depression. Seva explores traits of unease and pain through the appearance of deranged characters on stage. The strident physicality is influenced by highly theatrical hip-hop, freestyle moves and fluid break-dance. The London-based choreographer and his company engaged in an exploration of the frustration, rage and depression of those without a voice, to whom the piece is also dedicated. The intention is to speak for those who feel trapped, and who yearn to be free from their pain and distress. Seva works with performative excess, an integral element of the thought-provoking performance. The piece embarks on a delicate and problematic endeavour that results in a well thought through, expertly performed, and efficacious piece. It ends neither with cliché nor insensitive images, despite the cruelty and suffering depicted.
All in all, despite turbulent times globally, the festival came together favourably. Audiences were invited to relish in the beauty and wonderment of a summery Stuttgart, which for the entirety of the two weeks I visited was lively and welcoming. Most performances were followed by long standing-ovations and enthusiastic applause. While the younger generations' presence in the auditoriums was somewhat lacking, the Colours pop-up initiative proved to be an enormous success with children and teenagers. Eric Gauthier himself, travelling aboard a striking mobile stage and appearing in 10 different parts of the city, invited everyone to dance with him. Back inside the theatres there were some outstanding pieces, and to my delight, the quality of work presented was consistently high. As the biennial rhythm of the festival was displaced in recent years, Colours will make a come back already in 2023, making up for lost time and art.